HG6000 horizontal grinder redesigned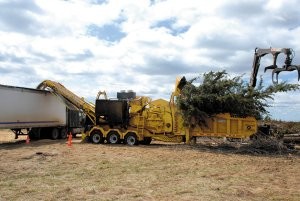 Vermeer Corporation has redesigned their model HG6000 horizontal grinder with machine enhancements and a Tier 4i/Stage IIIB engine to meet wood-waste processors' needs for productivity and government emission regulations.
"Vermeer spent considerable time redesigning the HG6000 horizontal grinder," says Jay Sarver, environmental sales manager for Vermeer Corporation. "The machine incorporates features that will help enhance productivity, and a new Tier 4i/Stage IIIB engine provides more fuel-efficient horsepower while meeting tier regulations."
The HG6000 is powered by a Cat C18 Tier 4i/Stage IIIB engine that meets all U.S., Canadian and European Union emissions regulations while producing 755 horsepower (563 kW), a 20 percent increase in horsepower over the previous Tier 3 engine.
A dual-screen system allows screens to be mixed and matched to attain the desired end product, and screens are reversible and interchangeable to obtain the maximum usage of the wear portion of the screen. Customers also have the ability to adjust the screen support on the HG6000, allowing the screen to be moved closer or farther away from hammer tips to match clearance with the type of material being processed.
Other key features of the redesigned HG6000 include; increased screen area; a Series II duplex drum, low-maintenance hammermill; a box beam style anvil; thicker mill box sidewalls; and Vermeer's exclusive SmartGrind stop and reverse system.
Company info
Related products