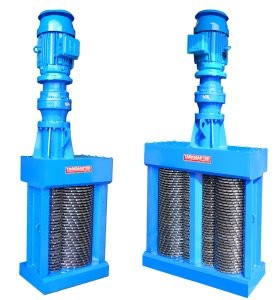 The TASKMASTER TITAN TM22000 is a rugged channel grinder that combines industrial shredding performance with a high flow capability and low headloss. This powerful unit has a much larger throat opening than the prior TITAN and can easily handle the largest, bulkiest institutional solids. The result is superior performance in both grinding and liquid handling.

The TM22000 employs two counter-rotating shafts with one cutter stack intermeshing with a second one with a greater diameter. This innovative design provides more efficient feeding and reduction of bulky solids and allows greater flow to pass through freely. The finely ground output provides excellent protection of pumps, filter presses and other downstream equipment. The cutters themselves are designed for high flow, eliminating the need for rotating drum screens. With a massive array of cutting surfaces, cutter life and unit strength are greatly enhanced assuring long term reliability.

The TITAN TM22000 is available as a TITAN DUPLEX which has twice the cutting area for higher flow and wider channel applications. The units feature up to 15hp motor and gear drive and extreme duty stainless steel mechanical seals. They are provided with a PLC driven S260 automatic reversing control system which automatically senses and clears jams as well as a true, submersible explosion proof motor that can continuously operate both submerged as well as in air.