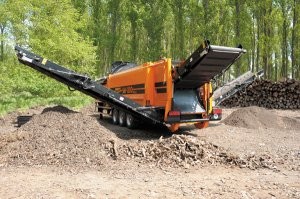 Doppstadt's SM 1200 Triflex two-deck star screen is capable of efficiently creating three fractions from organic source material, even with very high moisture content. Triflex functionality is based on the parallel rotation of stars on each deck to loosen and transport material across the screen.
Exclusive alternating shaft speeds provide an additional degree of agitation, which further tears and separates material, and the effective opening of either deck can be changed on the fly using adjustable shaft speed controls.
With its large 140 square-feet of screening surface, the Triflex can achieve very high rates of output, while delivering consistent product. For even greater separation capability, the Triflex can be fitted with windsifters over both decks, magnetic separation and an additional star or tipping grid above the hopper.
Doppstadt also recently introduced the SM Trommel star screen insert which is designed to convert Doppstadt SM 720 and 720K trommels into a star screen. Users simply remove the existing drum and replace it with the star screen insert.
Company info
Related products