MDP20R Demolition Processor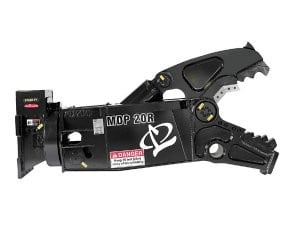 Stanley Hydraulic Tools has introduced the LaBounty MDP20R, a midsize mobile demolition processor that separates concrete from steel reinforced bar in seven-second cycles and, according to Stanley, weighs between 900 and 1,700 pounds less than competitive models.
A single cylinder on this attachment penetrates concrete with a crushing force of 150 tons while apex-angled cutting blades slice and separate rebar as pulverized material passes through the upper jaw throat into the lower jaw. The blades cut through I-beams, angle iron, tubing and pipe with the same force and precision as Stanley LaBounty's mobile shears, and a Swift Lock feature allows jaw teeth change-out in just minutes.