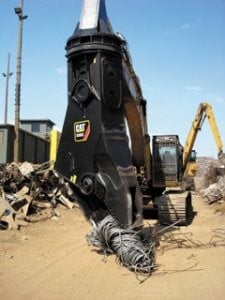 Cat's latest mobile shears, S365C and S385C models, are designed for scrap processing and demolition applications, and replace B series models S365B and S385B. These units feature bolt-on piercing tips for thorough protection in critical wear areas, easy maintenance for optimal piercing performance, and field serviceability without welding. These new shears also feature structural changes for extended durability.
The Cat bolt-on piercing tip design offers several advantages. The tip protects the moving jaw on both sides, effectively protecting the parent metal from wear as the moving jaw travels through the lower jaw. Additionally, the tip blades are fully reversible so that each blade provides two uses. Common hand tools are all that is needed to reverse the blades, and the tip can be maintained without moving the knives in the jaw. The result is faster and easier maintenance. The Cat tip also uses identical parts for both sides of the jaw. This makes maintaining spare parts inventory simpler for both dealers and customers.
S365C and S385C shears maintain proven features of the B Series shears, such as fast cycle times, excellent cutting capability along the entire jaw length, and 360-degree rotation. Jaw opening of the S365C is 845mm (33.3 inches), and the S385C has a jaw opening of 880mm (34.6 inches).
Caterpillar, Inc.
Company info
Related products