High-speed, x-ray fluorescence-based system takes metal sorting to next level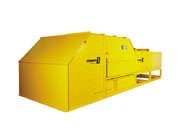 Earlier this year, Innov-X Systems and Steinert entered into an OEM agreement to market a new high-speed, x-ray fluorescence-based (XRF) sorting system that will effectively identify and remove copper-containing material, such as "meatballs", from ferrous scrap. The new system features Innov-X's unique and proven X-Stream technology – a high speed XRF sensor unit capable of elemental analysis in milli-second time scales – which is engineered into a Steinert industrial-grade full sorting system.
According to the companies, the new partnership results in the world's first and only industrial-grade system that sorts metals on the basis of chemical composition to identify and extract specific contaminants. This results in high-quality scrap with copper levels of less than 0.20 percent.
Under the agreement, Steinert will not only manufacture the equipment, but will also provide sales and marketing support for the new metal sorter. Franz Heiringhoff, CEO of Steinert Group, says, "We are excited to work with Innov-X. This co-operation represents an effective solution to the problem of copper in ferrous scrap and will be the answer to market demands not only in metal scrap recycling, but also in areas like plastic and wood recycling in the near future."
Innov-X Systems
Steinert US