New cab for compost turners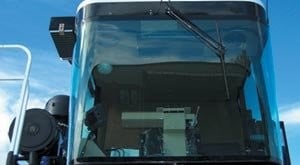 Scarab Manufacturing's new windrow turner cab is designed to be roomy and quiet, and offers a panoramic view of the operation at hand, which is further enhanced by the addition of cameras and a monitor. The new cab features a bent glass design for better visibility and incorporates three cameras mounted on the back of the machine, which allows operators better view of turner performance via a monitor inside the cab.
Scarab also recently introduced a new toe-to-toe design that allows operators to place windrows adjacent to each other. A redesigned track assembly utilizes narrower tracks with a scrapper attached, which allows operators to minimize the space between windrows. Placing windrows toe-to-toe allows for more pad site on which to compost.