Multiprocessor features five jaw types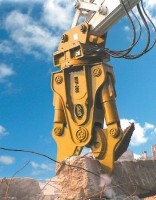 The Geith Precision multiprocessor is available in nine different models to fit excavator weights from 3.5 metric tons up to 70 metric tons. These units are available with five different jaw types including concrete jaws, steel shear jaws, pulverizing jaws, combination jaws and tank jaws. Jaw forces range from 62 to 420 tons. Some key features of these attachments include: 360-degree hydraulic rotation with a brake which creates precise positioning when processing materials; well-protected hydraulic components; easily interchangeable teeth and blades which allow for optimal processing performance; high clamping force; a hydraulic speed valve that generates a shorter work cycle; and a hardox steel structure that provides extreme durability and strength.

DII Attachments introduced their Geith Precision line of attachments earlier this year, including an initial offering of multiprocessors, rotating and fixed pulverizers, rotating steel shears, mechanical crushers and mechanical grapples.