New vertical balers introduced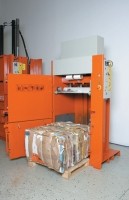 Three new vertical baler models have been introduced by Orwak: the 3210, 3410 and 3810. The Orwak 3210 (shown) is designed as a small and efficient front-loaded baler with a 13 second cycle time and capacity up to 80 kg for cardboard and 100 kg for plastic. Units will handle shrink-wrap, shredded paper, paper bags and sacks, plastic bags, both plastic and steel strapping, as well as food and paint cans. Press force is 12 tons, and the 3210 produces bales of 31-inch by 24-inch by 23-inch (depth/ width/height). Bale weights vary from 176 pounds for cardboard up to 220 pounds for shrink-wrap and plastic. The Orwak 3410 front-loaded baler is equipped with a "latch and wheel" door lock for safer door opening, an autostart function, and a sliding door that opens automatically after each cycle. Capacity is up to 300 kg for cardboard and 450 kg for plastic.

Orwak's new 3810 is a large and powerful front-loaded baler with extra generous loading aperture. The sliding door and autostart features are also included on this model, and capacity is up to 500 kg for cardboard.

Also recently introduced, the Cram-A-Lot Model VB-42-SR baler is designed for small bales of cardboard. Bale size is 24-inch by 42-inch by 28-inch and bale weights are up to 400 pounds of corrugated. The VB-42 is ideal where a small, inexpensive baler is required. All Cram-A-Lot VB series balers feature patent-pending safety and performance features. An innovative electro-mechanical door interlock system assures the door is closed during the compression cycle, and a gas spring loading door assist provides extremely safe and reliable operation. The gas springs on these balers eliminate all chains, cables and pulleys, and control panels are U.L. listed and CSA approved. Both JV/Cram-A-Lot and Orwak machines are distributed by Topline Recycling Equipment Ltd. in Canada.