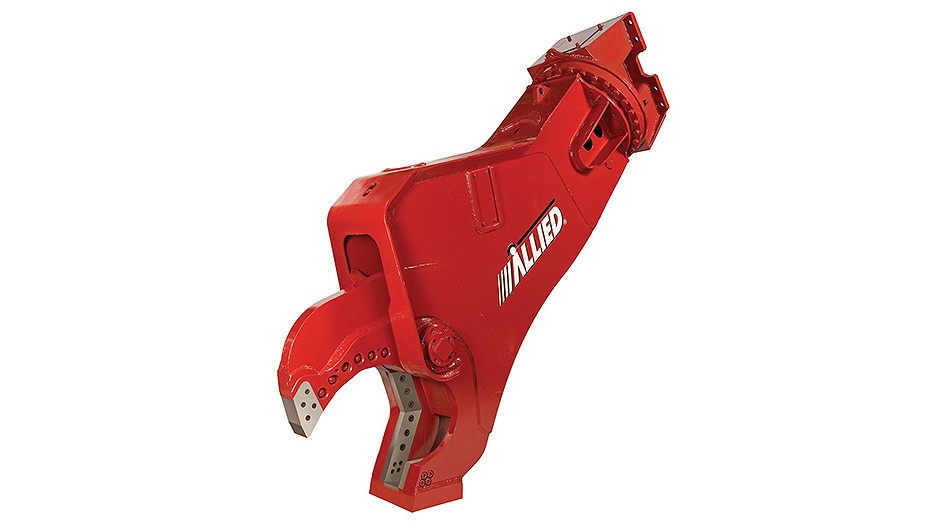 The Allied AMS Series mobile shears are specifically designed and built for scrap processing, industrial contracting and demolition applications. Using maximum tons of cutting force, the AMS Series improves your scrap and demolition production with increased cutting and piercing ability. Featuring fast cycle times, all four AMS Series models have substantially lower operational costs due to less welding build-up and hardfacing.
Features & Benefits
Processing applications
Ferrous and non-ferrous scrap processing, auto and truck dismantling, civil and industrial demolition, tank and silo dismantling, wire and pipe processing, wheel and tire processing.
Advantages
Extreme cutting force, fast cycle time, 360 degree rotation, four-way indexable cutting blades, pocket nose-blades fully-protected, bolt-on bracket 2nd/3rd member, Bolt-on piercing tip.
Specs
Key Specifications: 10 models

| | |
| --- | --- |
| Shear Weight -- AMS | 5000 lbs (2268 kg) to 15200 lbs (6895 kg) |
| Shear Weight -- AMS-R | 5445 lbs (2470 kg) to 18300 lbs (8301 kg) |
| Minimum Excavator Weight 3rd Member (Stick) -- AMS | 25000 lbs (11340 kg) to 94000 lbs (42638 kg) |
| Minimum Excavator Weight 3rd Member (Stick) -- AMS-R | 30000 lbs (13608 kg) to 105000 lbs (47627 kg) |
| Cutting Force Tip / Apex / Throat -- AMS & AMS-R | 143, 265, 585 tons to 290,560, 1600 tons |