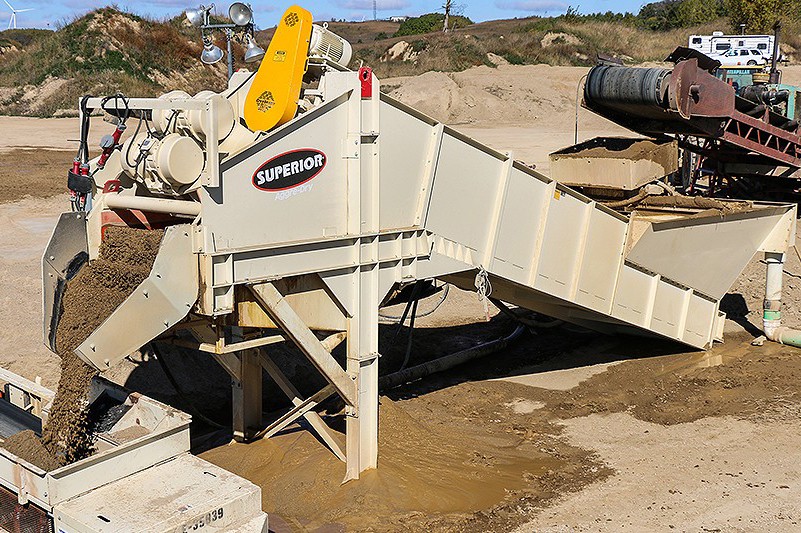 The patented Aggredry Washer is a combination of a fine material washer and a dewatering screen in a single machine. Sand specs are becoming more precise, making washing aggregate more necessary than ever. Unfortunately, incorporating processes like washing and dewatering into your job sites can create some common inconveniences. Processing wet material means you often need additional time for it to dry. That extra time means delaying the reclamation of the stockpile. Also, extra real estate is needed for the drying inventory. The Aggredry Washer solves the problem by both washing and drying the material, producing instantly salable material with a moisture content as low as 8%.
Features & Benefits
Wet material needs at least two weeks to dry, which increases stockpile sizes.
Compared to dry material, wet sand is harsh on tires and conveyor components.
Patented fines recovery system saves material from waste pond.
Specs
Key Specifications

| | |
| --- | --- |
| Single Screw: Screw Size | 36" - 60" |
| Single Screw: TPH | 100 - 300 |
| Single Screw: RPM | 13 - 20 |
| Single Screw: Max Material Size | 3/8" |
| Single Screw: Auger Shaft Motor | 15 hp - 30 hp |
| Single Screw: Vibrating Motor | 14 hp - 17.2 hp |
| Twin Screw: Screw Size | 48" - 60" |
| Twin Screw: TPH | 400 - 800 |
| Twin Screw: RPM | 16 |
| Twin Screw: Max Material Size | 3/8" |
| Twin Screw: Auger Shaft Motor | 25 HP each - 30 HP each |
| Twin Screw: Vibrating Motor | 17.2 hp |