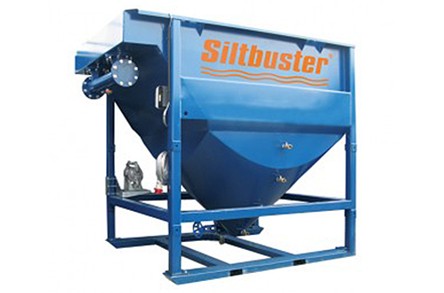 The Siltbuster HB40 Settlement Unit providing an effective settlement area of 40m2 is a transportable settlement trap providing effective separation of suspended particulates from water. The unit is typically operated with either a 4" or 6" pump.
To provide effective recovery of suspended particles the Siltbuster HB40 is normally operated at flow rates of upto 40 m3/hr. However, when treating more rapidly settling solids or when operated in conjunction with a Siltbuster Chemical Dosing System the flow rate to be treated can be increased to the hydraulic capacity of (80 m3/hr).
The solids (sludge) collected by the unit settle within the units single hopper and are easily removed by the opening of a gate valve, eliminating the need for the unit to be taken off line for emptying allowing continuous operation.
Specs
Key Specifications

| | |
| --- | --- |
| Seperation Method | Lamella Plates (Gravity) |
| Dry weight | 2,000 kg |
| Materials | Fine Silts and Sands |
| Settlement Area | 40 m2 |
| Inlet / Oulet Size | 4" F Bauer / 6" F Bauer |
| Operating Range | 1 to 40 m3/hr |