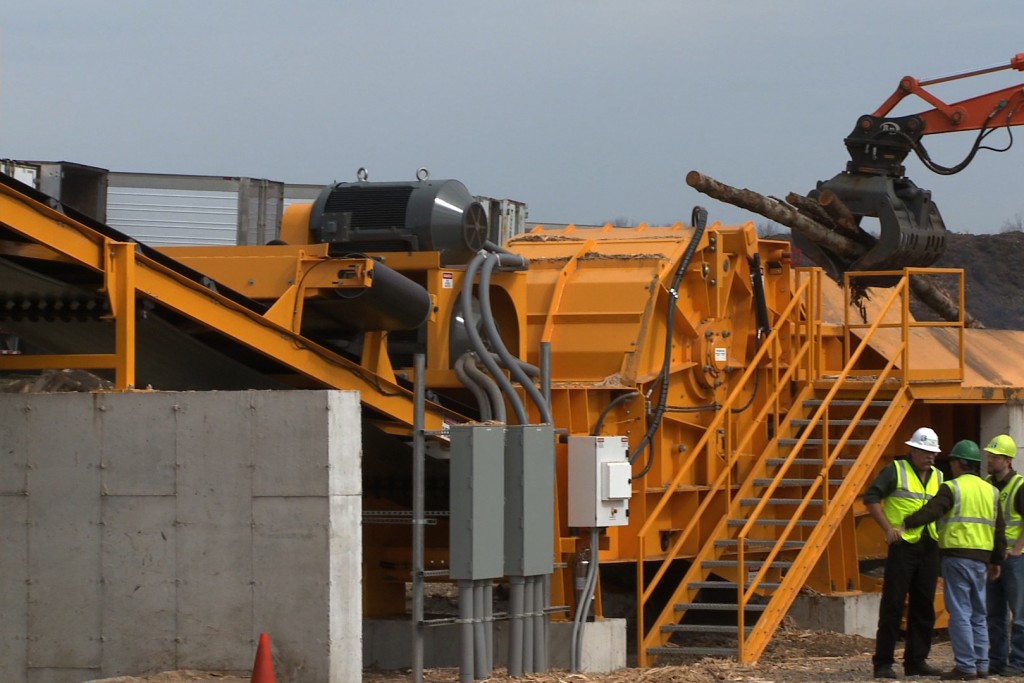 The Magnum Force Series 8400 Horizontal Hog is the undisputed world champion of extreme duty stationary Hogs. With the option of three application-specific rotor packages, the 8400 delivers both the rugged durability needed for processing metal and aggregate contaminated waste. The 8400 grinds full-length trees, stumps and brush, yard waste, contaminated C&D, telephone poles and railroad ties at an unbeatable throughput rate of up to 200 tons/hour. As with all CBI products, every feature and component is designed for the longest wear life, easiest maintenance, and lowest cost of operation available.
Features & Benefits
Trailer Frame
The trailer frame features a wide flange and tubular lattice structure for high rigidity and strength while greatly reducing weight. The triaxle features a Hutchens H9700 suspension and a 10' 6" tire spread.
Feed Conveyor
The 16' x 60" wide feed conveyor constructed of Hardox AR450 plate has a fluted (funneling) high troughing design, which aids in continuous feed to the hog chamber.
Hog chamber
The hog chamber is a heavy-duty reinforced housing with 100% continuous welds, providing maximum corrosion resistance and the ultimate in rigidity and strength. Bolt-in Hardox 450 wear liners simplify maintenance.
Chipper drums
Unique design features include a shear pin protected chip breaking grate which guarantees uniform chip size with virtually no overs, and an adjustable, reversible anvil allowing the operator to customize chip size while assuring maximum service life.
8400 Rotors
All 8400 rotors operate at approximately 700 rpm for optimum throughput while providing the highest possible tolerance to different feed stock and reducing wear.
Discharge Conveyor
The single catenary discharge conveyor is 60" wide and features a 220, 2-ply cleated belt. It is driven by a direct-coupled hydraulic motor drive.
Power Unit
The 8400 is equipped with a Caterpillar C-27, 1050 hp diesel engine; an optional CAT C-32, 1200 hp engine is also available. The engine features electric start, is turbocharged and after-cooled.
Hydraulics
Rexroth and Sauer hydrostatic closed-loop hydraulic pumps are used, which generate less heat and less component stress while prolonging equipment life.
Specs
Key Specifications

| | |
| --- | --- |
| Weight | 94,000–108,000 pounds |
| Engine | CAT C-27, 1050 hp; PT Tech HPTO 15 clutch |
| Discharge conveyor | 60" x 50' (WxL) |
| Discharge height | 17' |
| Feed Conveyor | 60" x 16' (WxL) |