Manufacturer
About:
Around the world, wherever machines and equipment need to perform, there is relentless pressure to keep them operating reliably, to maximise productivity and business performance.
A key to improving reliability, reducing operating costs and improving productivity are the lubricant products your equipment relies on. And that means finding the perfect lubricant supply partner.
Through decades of pioneering R&D, Petro-Canada Lubricants produced more than 350 world-class lubricants, specialty fluids and greases for demanding users worldwide. Our expertise spans a huge range of applications and industries, including high performance, heavy duty engine and driveline products proven to stretch drain intervals and reduce costs even in the most extreme working environments.
We supply high performance automotive axle/gear and transmission fluids. Our advanced hydraulic fluids protect all kinds of vital machinery from mining excavators to waste trucks. Our oils keep transportation from passenger cars to railway engines moving. We protect stationary gas engines. We make class-leading lubricants trusted by food manufacturers and packers, and the highly refined white oils the global cosmetics industry depends on.
The foundation of this performance excellence is the ultra-pure crystal-clear base oils made in our Mississauga refinery, one of the largest in the world with an annual capacity of more than a billion litres.
This is how we keep people and businesses moving in more than 80 countries worldwide.
Petro-Canada lubricants run long and hard through the toughest conditions. Extreme temperatures. Long hours. Demanding schedules. Remote locations. With all the challenges of the construction industry, the last thing you need is an equipment breakdown. Lost time means lost revenue and downtime costs can add up fast. Whatever construction jobs you're facing, Petro-Canada lubricants keep you running smoothly and efficiently. We offer a complete line of lubricants formulated to ensure peak performance through all types of weather and conditions. Going with the right lubricants to protect your equipment can have a major impact on your bottom line. That's why so many OEMs, maintenance managers and purchasing managers of construction equipment count on the industry-leading performance of Petro-Canada lubricants.
Performance that's pure from the start. Petro-Canada has been creating advanced lubricants for more than 30 years. We use the patented HT purity process to produce 99.9% pure, crystal-clear base oils – among the purest in the world. Base oil quality plays a major role in dispersing engine soot and other impurities that can damage your equipment. Our products retain their fresh oil properties longer to deliver longer fluid life and greater equipment protection.
Petro-Canada's Tangible Savings Solutions. At Petro-Canada, our job is to make your job easier. That's why we formulate top-performing lubricants to keep your on-road and off-road equipment running longer and harder. You can count on long-lasting wear protection for your equipment, less frequent change-outs, and exceptional cold temperature performance. We help you improve equipment performance and reduce engine wear while increasing productivity. That means outstanding performance for your operation and tangible savings for your bottom line.
The proven soot-fighter. The soot-fighting performance of DURONTM heavy duty engine oils comes from the advanced Group II and Group III base oils plus special additives that help ensure DURON keeps its "fresh oil" properties longer. That means you get cleaner engines, less top-ups and fewer change-outs while keeping your heavy duty trucks and off-road construction equipment going longer under tough conditions, while reducing your maintenance costs.

The DURONTM-E product line-up is formulated to meet the challenges of '07 low emissions engines (API CJ-4/SM) and older engines. DURON products are designed to meet the highest needs of pre-2007 engines.
Formulated for long-lasting performance. HYDREXTM hydraulic fluids last up to 3 times longer and offer up to 2 times better wear protection than the leading hydraulic oil brand.† HYDREX means more uptime, increased productivity and better energy efficiencies.†† Its long life helps extend drain intervals for reduced change-out costs. Its strong oxidative stability minimizes harmful sludge build-up that can lead to wear and shortened filter life. By protecting your equipment with HYDREX, you can reduce maintenance and mechanical failure, and prolong your equipment life.

For construction sites in environmentally-sensitive areas, ENVIRONTM is the ideal hydraulic fluid. It's free of heavy metals, non-toxic, inherently biodegradable and recyclable. Its exceptional oxidation stability means longer oil life compared to competitive vegetable oil based products and conventional hydraulic fluids. That means fewer change-outs, plus less sludge and varnish deposits.

Petro-Canada also provides a full-line of transmission/hydraulic fluids, transmission/drive train oils, gear oils, greases, and automatic transmission fluids. Throughout the wide range of lubricants Petro-Canada offers for the construction industry, you'll find there's one thing in common: performance. All of our lubricants are carefully formulated to help keep your off-road and on-road equipment running smoothly to reduce equipment wear and maximize productivity.

†Measured against the number one selling North American hydraulic oil brand.
††Energy efficiencies apply to multigrades only.
TM Trademark of Petro-Canada
Petro-Canada Lubricants Product Categories
Related Articles (10)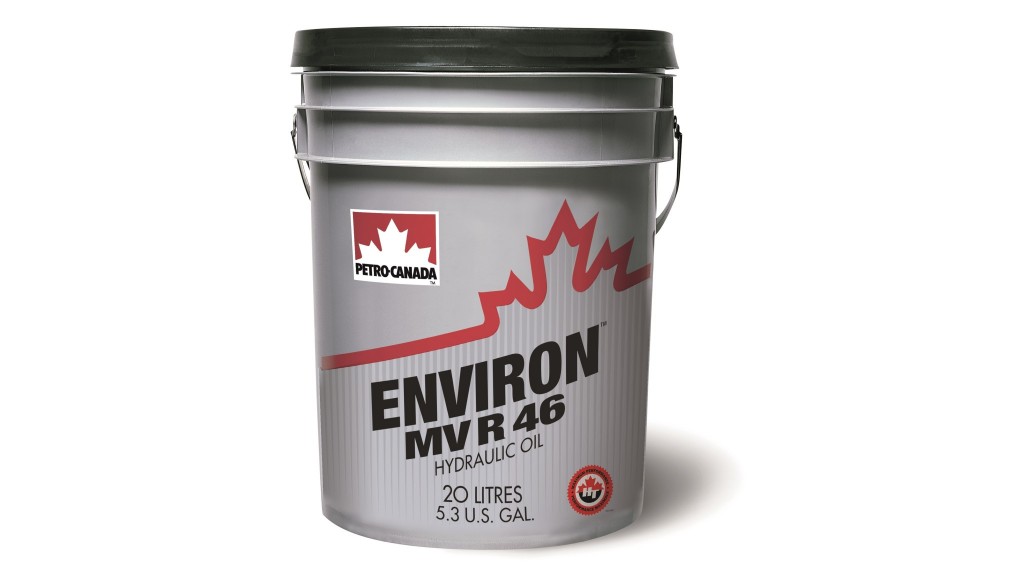 Petro-Canada Lubricants launches first readily biodegradable hydraulic fluid