Latest aerosol can crusher is safe and effective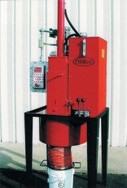 TeeMark recently announced the latest aerosol can crusher to their line of can, pail, aerosol and drum crushers. The Super 200 is designed with all the safety features of previous models, with a more economical price. Units process many different size aerosol cans with a wide range of can content, separate liquid can content from propellants and VOCs, and remove and capture 99 percent of can contents. The Super 200 crushes cans to 1/2-inch thick while emptying contents and provides an automatic processing cycle that begins when the operator inserts a can into the crushing chamber and pulls two handles. Other features include: an explosion-proof crushing and piercing system; a blower that pulls VOCs and propellants from in and around the crushing chamber to create a PTE (permanent total enclosure); and an optional carbon filtration system for compliance with local regulations which may require additional processing of the off gases.
More from Metals Recycling
Single-Ram and II-Ram High-Capacity Balers
At Machinex, we've been designing sorting systems for over 35 years, so we know how essential it is for MRF operators to have a baler they can trust and not worry about its operational reliability. This is why we design and manufacture reliable single-ram and II-ram high-capacity balers to specifically help optimize their operations.
Watch the video of our expert who presents the main features of Machinex balers delivering these important benefits:
Easy & accessible maintenance
Reduced maintenance & bale handling costs
Energy savings
Optimal bale density
For C&D recyclers, waste haulers, demolition contractors and landfills, there is a growing opportunity to profit from rethinking processes. Although every operation is different, by streamlining the front end of the C&D operation processes with purpose-built technologies, recyclers can tap into new end markets, accommodate higher material volumes, stay ahead of regulatory restrictions, increase recovery rates and add commodity revenue, while decreasing labor and other costs.
Download the new eBook to learn about:
Finding opportunities in the alternative to landfilling C&D
How facilities can increase their profits from C&D
Using the right C&D processing technology in the right locations