VTN and Rotobec sign distribution agreement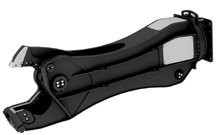 Rotobec Inc. and VTN Group have announced the recent signing of a distribution agreement between the two companies. VTN Group manufactures demolition and recycling attachments including shears, pulverizers and crushing buckets.
As of the new agreement with Rotobec, VTN's products will be an addition to Rotobec's "Tough Handling Equipment line and will be co-branded as VTN Rotobec. Under the agreement, VTN has granted exclusive distribution rights to Rotobec Inc. in North America. VTN Rotobec will provide complete sales, parts and technical support for the product line in North America.
The VTN Rotobec product line includes: VF Crushers and FP Rotating Crushers, PD hydraulic demolition shears and CI series hydraulic shears, the MT Multi-Utility attachment which can be equipped with three different jaw sets for handling steel and concrete, as well as screening and crushing buckets.
VTN Rotobec