Compact odour control system treats wide range of emission flow rates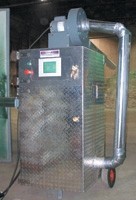 This compact, odour treatment system is available to treat a wide range of air emission flow rates of 15,000 to 75,000 and more. It is based on "Non Thermal Plasma" technology, uses a modest amount of electricity to operate and never wears out or needs rebuilding. Industries where this technology is effective include compost, biosolids, manure and anywhere organic odours are an issue.

The system converts the odour, VOCs and complex organic compounds to CO2 and H2O. Units are built extremely compact, and a four-foot high, 1,500 cfm sized system (shown here) is portable enough to travel to any site for evaluation on any process.