Spool housing improves tarping systems for chip hauling trailers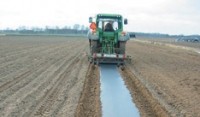 Roll-Rite recently introduced a new high-capacity Tarp Spool Housing. The new housing is made with less bulk and weight, and is designed as a complete front-to-rear tarping system that solves the most common tarping problems associated with chip hauling trailers up to 53 feet in length. Chip hauling requires a tarp fabric that breathes enough and that is heavy and wide enough to lay flat (even on heaped loads), and one which will totally prevent debris from escaping. Commonly used side-flip style tarp systems are not available with the wider tarps required for heaped loads. Plus, side-flip style tarp systems have many parts that can obstruct the loading zone and which may be damaged themselves during loading.

The Roll-Rite high-capacity Tarp Spool Housing is attached to the trailer bulkhead, and the tarp system arms sit below the top rail, so the system provides a completely clean trailer top rail and clear loading zone. The housing is also designed to be roomy enough to hold Roll-Rite's Pleated Tarp design, a tarp expanding up to 10 feet wide to effectively cover heaped chip loads.

Roll-Rite's standard full tarp spool housing for general truck and trailer applications holds up to 30 feet of Super Tough Mesh. The new high-capacity Tarp Spool Housing can hold up to 57 feet of Super Tough Mesh and up to 46 feet of Pleated Super tough Mesh. Other benefits include: low install time; no gussets required; uses one-third of the fasteners (2/3 less holes to drill); and adds no vertical height to the trailer.Roll-Rite also recently increased the versatility of the electric kit used to power their electric tarp systems. The new 10900 electric kit uses a heavy-duty relay with silver alloy contacts (instead of copper) for increased resistance to corrosion, and which exceeds the 30-amp rating required to run Roll-Rite tarp systems. Roll-Rite's electric tarp system is designed to reach peak performance at a lower amp draw, and without the need for heavy and expensive high-amp wire.Roll-Rite, LLC #5025Compostable mulch films made of PLA blendsThe first compostable mulch film based on a PLA blend has entered the market in Germany. According to FKuR Kunststoff GmbH, Willich, in cooperation with the Fraunhofer institute, the companies responsible for the new technology, the new mulch film, called Bio-Flex, uses PLA blends which are a mixture between PLA (polylactide) and further biodegradable polymers and addi-tives. By means of a fermentative process, PLA is obtained from corn starch, among other products. The industrial production and application testing of these new PLA mulch films showed that in comparison to other biodegradable films, Bio-Flex degrades slower and is less sensitive to climatic variations. BioFlex was also shown to be able to be produced efficiently on conventional extruders, such as those used in the production of LDPE films. Since 2005, compostable PLA mulch films have been tested worldwide on a variety of crops in several climates. The crop yield with this biofilm is comparable to conventional mulch films made of PE.

PLA mulch films can also be laid out with conventional laying machines without difficulty, and a further advantage of the application of bio mulch films for agriculture is that after a crop yield, the product will continue to degrade in the soil, significantly reducing the amount of work and costs for disposal. The granules and the film used in Bio-Flex are fully compostable according to EN 13432. Additionally they are certified according to DIN Certco, OK Compost, NFU 52001 and Ecocert.