Unique service helps recycle lighting waste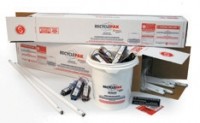 Formerly known as OnyxPak, RECY-CLEPAK is designed as the perfect recycling and disposal solution for small quantities of lighting wastes, such as fluorescent lamps and ballasts. Prepaid packaging allows for a convenient way for small businesses to manage their lighting waste, with one price covering all the necessary requirements.

RECYCLEPAK ships supplies to and from the customer's facility, and processes all documentation, including certifi cates of recycling. The pre-paid recycling program ensures complete compliance with state and local disposal regulations while reducing the risks associated with improper storage. In addition to lighting waste, RECYCLEPAK also provides a recycling and disposal solution for electronics waste, including batteries, computer electronics and mercury containing items.

Veolia Environmental Services (VES) North America recently announced a partnership with OSRAM SYLVANIA to jointly promote the company's award-winning lighting and electronics recycling program online. OSRAM SYLVANIA offers the sale of RECYCLEPAK on its website, at www.sylvania.com. "Our relationship with OSRAM SYLVANIA furthers both companies' global commitment to sustainable development and to protecting public health and the environment," noted Philippe Martin, President and CEO of Veolia ES Technical Solutions, L.L.C. "We are proud to be associated with such a socially responsible organization.