DZH 7000 model blends technologies from existing grinder line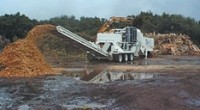 Designed in response to growing demand for horizontal grinding, Diamond Z Manufacturing has blended technologies from its existing industrial grinder product line to launch an innovative horizontal machine design that caters to large-scale wood waste processing applications in both production and ease of accessibility. The DZH 7000 Series is a portable, high-capacity, low-maintenance horizontal grinder designed for precision grinding of any material including wood debris, brush, limbs, logs, stumps, and construction materials.

Primary machine features consist of a patent-pending Feed Roller design that raises past centre to a safety lock position for easy maintenance and screen replacement of less than 20 minutes. An aggressive variable speed dual drive feed chain for handling the toughest material is also standard, as is the industry's first patent-pending Hydraulic Rod Puller for quick access. Engine horsepower options are up to 1,000 hp. Integral standard features also include 30 hammers at 140 pounds each, a Fluid Coupling soft start drive system, self-diagnostic radio remote control, and abundant 600 gallon fuel capacity. The DZH 7000 Series is designed specifically for large-scale wood waste operations, processing more than 500 yards of material per hour, to reduce costly downtime with ease of accessibility, and to increase net operating profit for operators.