Portable crushing plant designed for high capacity in tough applications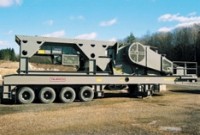 Designed for high-capacity performance in tough applications, such as recycled concrete, the Telsmith 3258 Portable Crushing Plant is engineered with features that boost production, reduce maintenance requirements, improve safety and enhance mobility. Ideal for the portable plant operator, the plant travels at 13 feet six inches high and 10 feet in width. At the heart of the plant is the Telsmith Model 3258 hydraulic jaw crusher. Due to its 32-inch gape and a 58-inch wide crushing chamber, production is very high. Unique, finger-tip controlled, hydraulic adjustment cylinders reduce maintenance and increase uptime production while the hydraulic overload system automatically protects the crusher from tramp metal. Units are equipped with either diesel or electric power plants and feature an optional variable speed drive for the feeder.

The crusher is fed with a 60-inch-wide and 20-foot-long vibrating grizzly. For optimum portability, the grizzly feeder, loading hopper and grizzly bypass chute comprise one modular unit. The entire module can be removed as one piece, sliding off the back of the plant and simplifying travel in weight-restricted travel areas. Additionally, the chassis is equipped with a standard tri-axle air ride suspension, and an optional fourth axle can be pneumatically elevated off the ground, reducing wear and tear during tight on site manoeuvring. Diesel plants on these units incorporate a 365-hp engine with a hydraulically activated trans-fluid clutch. Push-button controls engage the clutch automatically, and a hydraulic belt tensioner is used to maintain a constant belt pressure, eliminating the need to adjust belts. Several levelling systems are available as options, and using an innovative approach, Telsmith has tucked the cylinders under the plant, allowing extra room around the support legs for blocking. Additionally, large service platforms are built into the chassis for easy access to the jaw, feeder and engine.