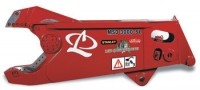 This automated, blade lubrication system has been field-proven to significantly reduce maintenance and enhance shearing performance.

The new system is designed to double blade life, cut build-up welding time on the affected jaw areas in half, and reduce downtime by two weeks or more per year. It has also been proven to convert blade friction to usable cutting power (an increase of up to eight percent), and require less welding.

Other key features include reduced noise, easier removal of wear parts, smoother hydraulics, and a smoother overall cutting process. Stanley LaBounty's MSD Saber Lube Series shear incorporates all key features of the original MSD Saber Series, in addition to the new patent pending lubrication system.