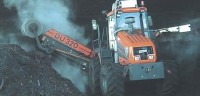 Windrow turners from DOPPSTADT are designed using technology which is not dependent on the windrow shape so that windrows of variable width and height can be turned with extremely high throughput.

Features of the DU range of windrow turners include: two fast rotating side cutter disks with quickly replaceable teeth; a rapid discharge belt; controllable windrow reformation using an optional discharge roller; and quick set-up due to a hydraulic folding discharge belt.

The model DU 320 can achieve capacities up to 1,000 m3/hour and is designed for mobility and flexible use on site. The turning unit is mounted on an independent tractor unit with approximately 97% motor output at the PTO, by three-point linkage. Also available, and with many of the same features as the DU 320, the compact model DU 265 Panda is designed to achieve 500 m3/hour.
Company info
Related products