SELF-UNLOADING LIVE FLOORS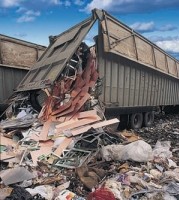 At landfills, trailers with Hallco Live Floors become self-unloaders with material being pushed off automatically. As many as 10, 12, even 15 waste trailers can self-unload at a working face with no waiting in line for tippers, or worrying about time-consuming breakdowns.

Built light enough to maximize payload, yet tough enough to be top-loaded, compactor-loaded or baler-loaded, Hallco Live Floors work indoors or out, in small spaces or large. Industry applications include baled, bagged, loose or compacted refuse, demolition, recycled materials including glass, aluminum, tires, cardboard, plastics, paper, and refuse derived fuel (RDF).

Design features include a wide range of customer options that allow for the use of standard components to achieve a custom fit.

A wide selection of decks are available to match specific applications, available in lengths up to 53 feet for both 96-inch and 102-inch trailers. Snap-on slats are designed for fast installation and easy replacement, and single-unit construction allows for speedy installation. A choice of drive unit options with hydraulics are pre-tested at operating pressures before shipment.