Compostable bags
Made with high-tech plastic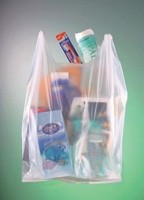 BASF's Ecoflex Copolyester is helping Heritage Bag, out of Carrollton, Texas, produce a compostable bag that will enable more food waste to be diverted to composting facilities, rather than landfills or incinerators.

BioTuf bags are designed to replace ordinary trash bags for food waste disposal. BioTuf bags are approved by the Biodegradable Products Institute, and are certified via ASTM D6400-04 for their ability to biodegrade swiftly and safely during municipal or commercial composting. These bags are manufactured using a unique technology called Minapol, developed by Heritage Plastics. Minapol is made from calcium carbonate, and is used to create a compound for can liners, trash bags and other bags.

"Municipalities throughout North America are working to reduce the amount of trash going to landfills and incinerators. The ability to divert more biodegradable waste to composting facilities is one of the most effective solutions to accomplish this, because it benefits the environment and helps communities to lower the costs associated with processing, separation and disposal, in addition to the environmental benefits it provides," said Keith Edwards, Market Development Manager, Ecoflex Copolyester, for BASF in North America.

Heritage Plastics and Heritage Bag tested several polymers during the development of BioTuf bags, and found that none of them offered the processability that was required – until they tried Ecoflex. "The process used to make BioTuf liners requires a polymer with good melt strength and excellent toughness. Thanks to Ecoflex and Minapol technology, we are able to meet these needs," said Peter Klaich, Director of Compostable and Biodegradable Products for Heritage Bag.

BASF's Ecoflex synthetic biodegradable plastic, manufactured in Germany, is an aliphatic-aromatic copolyester which is ideal for bags, paper coating, disposable packaging or agricultural sheeting because it decomposes in soil or in compost within a few weeks without leaving any residues.