VERSATILE SCREENER CRUSHERS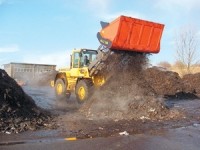 SM Screener Crushers are versatile processing attachments for wheel loaders, excavators or skid steers, designed to screen, crush, pulverize, aerate, blend, mix, separate, carry, feed and load in one step. SM units will process a wide range of materials including: compost, bio waste, top soil, waste soil, contaminated soil, clay, peat, bark, demolition waste, ground asphalt, glass and many other materials.

Also available, the X 80 drum unit, a newer addition to Allu's SM line of screener crushers, is designed to separate stones and contaminates from soil, resulting in four-inch minus size. The X 80 can also crush C&D, wallboards or pallets, with the largest particle size of approximately four inches.
Company info
Related products