Next generation Bollegraaf baler installed at Smurfit Kappa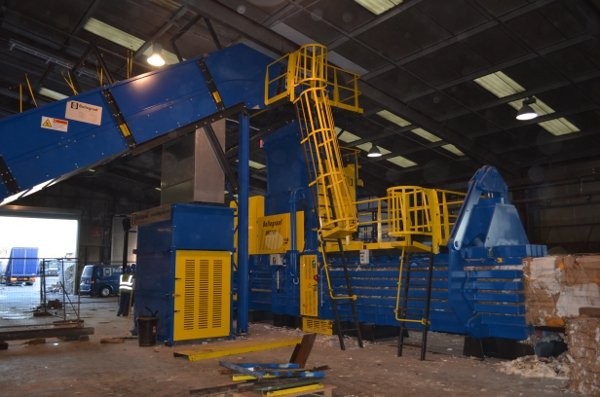 Bollegraaf UK Ltd. and Smurfit Kappa have recently finalised the installation of one of the first "next generation" Bollegraaf HBC balers at the company's Blackburn, UK site.
"A baler is at the heart of any paper recycling facility and Smurfit Kappa wanted to ensure the design of this new installation achieved the most efficient processing plant possible on the Blackburn site. A lot of time was spent at the design phase ensuring we optimised the material flows around the site and through the baling plant. We are very happy with the final installation and it stands us ready to grow the Blackburn business for many years to come," according to Simon Weston, Managing Director of Smurfit Kappa Recycling.
"With more than 50 years of experience, Bollegraaf is one of the most knowledgeable suppliers on the planet. We know there is no single specification for the composition of waste. This is why we believe versatility is key. It inspires us to engineer, build and deliver tailor-made solutions that are easy to use, have a low cost of ownership, perform to your specifications, and offer an excellent return on investment." says Andre Matula, Operations Manager at Bollegraaf UK ltd.
"Bollegraaf has a long tradition in the production of 'best-in-class' balers and have recently introduced several innovations and upgrades to their existing line of HBC balers," continues Matula. "One of the most prominent features of these next generation balers is our innovative Variable Frequency Drive resulting in significant less energy consumption and less noise during operation.
"Bollegraaf already have the most efficient hydraulic block on the market, & combined with a baler that automatically has a standby mode after 180 seconds, Bollegraaf have truly gone one stage further by offering our customers the new Eco baler option. Running the main motors using variable-frequency drives, in the past a HBC 120S with a single 90kW main motor would start up in star delta mode and peaks high amps on start-up, with variable-frequency drive this is reduced to a minimum. Huge electrical savings are already being seen at Smurfit Kappa Blackburn."
Simon Weston continues: "The energy efficiency of the new baling machine was one of the main selection criteria for Smurfit Kappa, as part of its competitive purchasing process. Bollegraaf were the only company who offered comprehensive control of the main power hydraulic pack through a frequency inverter."
"We are already seeing substantial energy savings since the installation was switched on. When the baler is idol and waiting for new material, the power consumed is reduced, while ensuring the machine is ready at any time. Not only did wecompare each potential supplier for energy efficiency, but Bollegraaf are also using an environmentally friendly paint finish on their baler. It is really important for Smurfit Kappa to select suppliers that are thinking of sustainable solutions in the design of their machines."
"We are not just active in an industry that's rapidly going green. At Bollegraaf we are also very aware of our own corporate responsibilities towards the environment. For instance, Bollegraaf's new water based paint is not only environmentally friendly (using captured & filtered rainwater to produce the paint) but it also has improved application and adhesion.
Besides energy efficiency and environmental aspects another important aspect for Smurfit Kappa and Bollegraaf was safety.
Mark Montgomery, H&S and compliance manager at Smurfit Kappa Recycling, says: "Safety was a key element throughout the purchasing process. We wanted to supply our employees with the safest baler available that would also meet the requirements of BSEN 16252:2012. I believe we have done that with the Bollegraaf HBC 140."
"Working together we identified additional safety features such as extra access platforms, interlocked access points, conveyor reverse, auto lubrication systems and conveyor pit indicators. All the features identified were aimed at minimising working at height and the interaction between people and the machine. This includes employees and contract maintenance staff. Full training and support have been provided to all operators by Bollegraaf UK. I believe the end result is one of the most efficient and safest balers on the market to date."
Bollegraaf Recycling Solutions is a leading global engineer and manufacturer of turnkey recycling solutions and recycling equipment. The company has a track record for more than 50 years' experience in the industry, and is based in the Netherlands with subsidiaries in Germany, France, England and Spain for sales and service. Furthermore, the company is participating in a large dealer organization that covers the whole of USA and Canada and have sales representatives, service engineers and sales agents based all over the world.
Smurfit Kappa is one of the leading producers of paper-based packaging in the world, with around 41,000 employees in approximately 350 production sites across 32 countries and with a sales revenue of €7.9 billion in 2013.
Related products