Bringing recycling up to speed
Regina processor makes the switch from low-volume manual sorting to eight-tons-per-hour single-stream system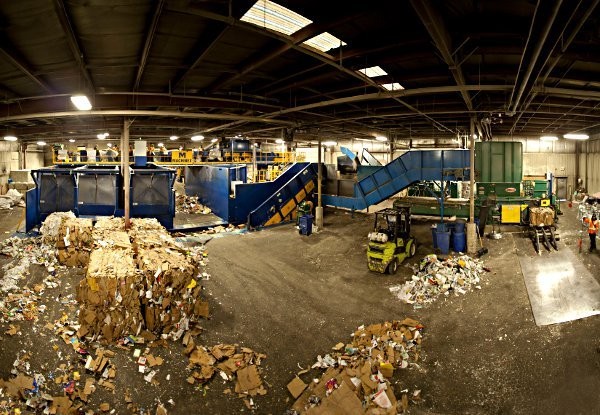 by Keith Barker, Editor, Recycling Product News
After being in the recycling business for fifteen years, and faced with ever-increasing volumes of incoming materials, Crown Shred & Recycling, based out of Regina, Saskatchewan, was in need of an upgrade. In November of 2013, Machinex completed design and installation of a new, eight-tons-per hour single-stream MRF for the company, which previously operated at a relatively low capacity, using only a table-top manual sorting system and a star screen.
"Single stream recycling is very new to Saskatchewan," explains Cory Shaw, Crown Shred's operations manager. "Before our new system, we were always source-separated. We had a line for plastics and one line for fibre. But none of our equipment could handle single-stream."
Crown Shred & Recycling now accepts a wide range of material types, from Regina and surrounding southern Saskatchewan. Infeed includes all paper grades and residential plastics, as well as car bumpers, industrial and high-density plastics, vinyl siding and fencing, and a range of other materials. "We're processing just under 65 tonne a day now," says Shaw. "We range in infeed from commercial single-stream to residential single-stream to residential fibre."
The Crown Shred facility in Regina is also home to one of Saskatchewan's 35 EcoCentre locations, part of a stewardship program run by the Saskatchewan Association for Resource Recovery Corp. (SARRC) that collects and manages used oil, oil filters and used plastic oil containers up to 50 litres.
On March 27 Crown Shred hosted an event at their EcoCentre, attended by Environment Minister, Ken Cheveldayoff, which marked the start of Saskatchewan's latest recycling initiative – a program designed to promote and manage the recycling of used antifreeze, plastic antifreeze and diesel exhaust fluid (DEF) containers.
The inside story
According to Machinex, who had worked previously with Crown Shred, the two companies were able to work together on the new Regina facility through multiple development concepts and system layouts. Within just a few months, Machinex was able to dismantle the old infrastructure, reuse some of the components (mainly conveyor lines) and fit a new high-production system into the relatively small building (with a particularly low ceiling height).
Machinex says the system at Crown Shred is designed to produce high purity end products, while improving worker safety and ergonomics, and will result in greatly increased productivity and throughput. Some of the key technology used in the new facility includes MACH Motion Floor fibre bunkers, which means less use of mobile equipment, as well as a fibre QC (quality control) sorting conveyor that incorporates Machinex' exclusive internal container return system.
"With our old system, we had to move everything by skid steer. It was all bunkered, and we had to move materials three times," says Shaw. "Now, we have walking floors, so all we have to do is move cardboard."
A MACH Ballistic separator was also fitted into the low-ceiling building space to handle the high-volume 2D/3D container/fibre separation required. Additionally, the new system is fully automated, using Machinex' standard controls system. The system allows for remote monitoring and troubleshooting as well as multiple system recipes and customization of system settings for varying material streams and weather conditions. Shaw says he loves the fact that he can control the speeds of his conveyors with just a touch.
"I can speed up the conveyors and slow them down without having to shut down the system," says Shaw, who also notes that because they use an outdoor infeed conveyor system, Saskatchewan's weather can sometimes be a factor.
"If material is wet, it doesn't flow as easily, and it slows things down. If it's wet from rain or snow, and things are sticking, we can slow the system down, so it's not coming through in big, wet clumps. We can get it to come through a little bit thinner, and we can handle it easier."
Shaw adds that a metering drum on their new outdoor infeed conveyor also greatly helps provide a smooth, consistent flow of material into their system. Other Machinex equipment at Crown Shred includes a pre-sort conveyor over the bunkers to remove contaminants and bulky items, and a MACH double deck OCC screen with QC sorting station. Also notable is the MACH fines screen, underneath the OCC screen, which is mounted on rollers so it can be moved out for safe, easy cleaning when needed.
According to Machinex, Crown Shred's new system will provide the company with lower labour costs, higher throughput, higher commodity purity and less requirement for use of mobile equipment, resulting in lower operating and maintenance costs, and lower air emissions. And this is not to mention the improved ergonomics and safety now in place at Crown Shred's operation.
"Compared to before when we sorted everything by hand, now there is much less reaching and turning required of our employees," says Shaw. "And for safety, we have more e-stops (kill switches), quality railings, and everything conforms to the standard we need." Machinex Crown Shred & Recycling's new 8-tons-per-hour Machinex single-stream material recovery facility, Regina Saskatchewan.