Closing the loop on gypsum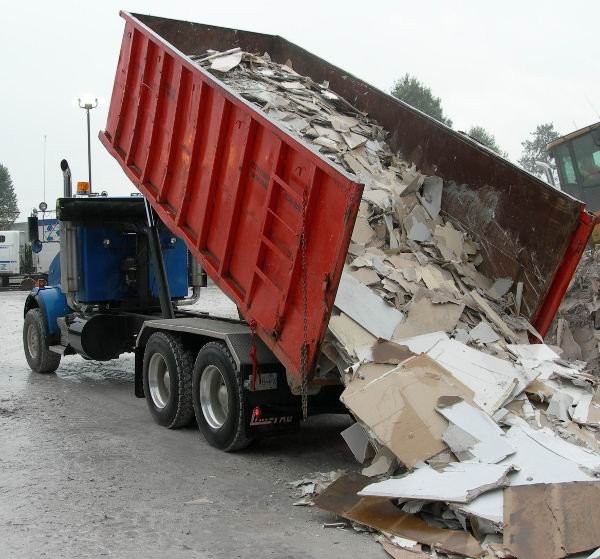 Almost 30 years ago, the Greater Vancouver Regional District (GVRD) in British Columbia, became one of the first jurisdictions in the world to ban the disposal of gypsum at landfill sites. With this ban came opportunity.
In 1985, in an effort to ensure that no gypsum ever made its way to a landfill, Tony and Gwen McCamley established New West Gypsum Recycling (NWGR). Over time, a highly-efficient process has been developed to pulverize the gypsum core and remove the backing paper, leaving the recycled gypsum ready for use. This process – now patented – is the cornerstone of the nearly five million tonnes of gypsum material that NWGR has recycled and returned to wallboard manufacturers since the company began. The recycled material is a consistent, quality blend of pre- and post-consumer gypsum material that is a readily available source for use in the manufacture of new drywall products.
Since 1990, NWGR says they have been expanding their processing capabilities, and now has well over 100 employees at plants worldwide.
"NWGR is the most efficient gypsum recycler today," says Cheryl Mckitterick, of New West Gypsum Recycling. "Not only can we recycle dry gypsum, but we are experts at recycling wet gypsum. "Our goal is that no gypsum material ever ends up in a landfill. And since there is no product degradation during the recycling process, gypsum is an infinite re-use material."
NWGR works with recycling associations, green building associations and governments to educate and bring awareness to industry stakeholders so that landfilling does not have to be a choice for gypsum. The paper backing material is baled and re-used or repurposed, and any post-consumer materials, like nails or screws, are culled from the gypsum recycling process and moved through a separate recycling stream.
According to NWGR, the ideal solution for used gypsum is a closed-loop re-utilization of the material. This means recycled material is returned to the wallboard manufacturer to re-enter their manufacturing process. NWGR says their closed-loop sustainable solution ensures gypsum is not 'lost', as it is when composted or land-spread, and contends that gypsum can essentially be recycled forever with no degradation to the material.
"We have strong relationships with wallboard manufacturers who have consistently grown the recycled content of their wallboard products," continues Mckitterick. "NWGR is so confident in our business model and solution technology that we offer risk mitigation to wallboard manufacturers. Our process model is tried, tested and true. Since the beginning, we've never had a load rejected.
"We also continually work with the wallboard manufacturers on process improvement, and our modular equipment allows for efficient technology evolution. An essential part of our process is human ability – hand sorting before processing assures the highest quality feedstock for manufacturers."
Collection is key
New West Gypsum Recycling's business model dictates that a maximum percentage of gypsum material bound for recycling is post-consumer – that is, material that is diverted from landfill from building renovations and new construction. In order to efficiently collect this material, NWGR utilizes existing transfer stations at key locations surrounding their recycling plant locations, and in some instances, has built their own transfer stations in particular regions.
Material brought to transfer stations is typically pre-sorted prior to the gypsum wallboard material being transported via waste haulers to the NWGR recycling facility. Additionally, for construction sites and large project sites, wallboard dedicated waste bins can be made available on-site, and once full, transported directly to the recycling plant. NWGR's current recycling facilities are capable of processing an average of 25 tonnes of blended wet and dry gypsum drywall material per hour. Current capacity for each plant is 100,000 tonnes annually.
"Combining all recycling facilities, NWGR has the capacity to annually recycle up to 1,000,000 tonnes of gypsum drywall material," says Mckitterick. "All of our recycling facilities are built in close proximity to, or are co-located in a manufacturing facility. This helps to reduce our carbon footprint relating to transporting material. As well, since we are in such close proximity it helps to strengthen our relationship with the manufacturers."
The drywall recycling process
New West Gypsum Recycling receives pre- and post-consumer gypsum waste, reconstitutes the materials into useful products and provides the raw material for new manufacturing. Acceptable materials from construction, deconstruction or reconstruction sites and scrap from drywall manufacturers include: waste drywall board material, strip-out gypsum wallboard products, construction off-cuts, as well as gypsum moulds from porcelain manufacturers.
Inbound wet and dry loads of waste wallboard product are dumped on the NWGR plant's tipping floor and hand-cleaned (pre-sorted) of metal, plastic and other debris. The raw material gypsum waste is loaded into a large feed hopper, which feeds the waste onto a sorting belt where a quality control agent can sort through the material to ensure suitability for the manufacturer's feedstock. A conveyor belt then moves the material under an electromagnet which removes minute ferrous metal fragments.
The material is then conveyed to an enclosed processing area that separates the paper line from the gypsum core. Next, the recycled gypsum is conveyed to drywall manufacturers, where it is blended with virgin or synthetic gypsum to make new wallboard. The paper is further processed prior to recycling for use in a wide variety of applications, and any metals collected enter a separate recycling stream.
According to NWGR, recycled gypsum combined with raw gypsum produces desirable consistency levels in the manufacture of new gypsum-based products, and recycling and re-using gypsum material reduces the need for virgin raw material.
"The business model for drywall manufacturers using recycled gypsum is compelling," says Mckitterick. "They save by paying a low fee for disposal of their manufacturing scrap and they lengthen the useful life of their gypsum mine resources. With virtually no capital investment, manufacturers are helping to conserve natural resources while responsibly endorsing sustainable processes and products. We are gypsum recycling."