E-Crane 1000 Series E-Crane replaces material handlers at Harsco scrap yard in Brazil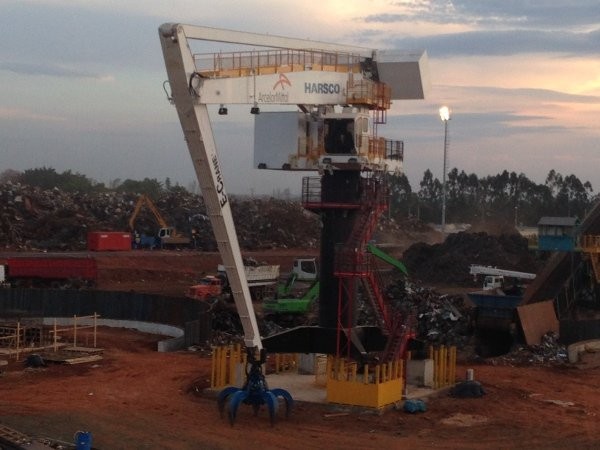 At the end of 2013, a new E-Crane was installed and commissioned at the Harsco scrap yard in Piracicaba, Brazil near São Paulo. The E-Crane is a pedestal mounted 1000 Series / Model 7317 with a maximum outreach of 31,7 meters (104 ft) and a maximum lift capacity of 13,6 Mton (15.0 USton) and will be used to handle scrap at the facility. The new E-Crane replaced at least three small material handlers at the site.
The Harsco scrap yard is a supplier to the ArcelorMittal steel mill. The scrap handled at the Harsco yard fills the trucks which then go to the steel mill to be processed. The E-Crane is being utilized at the scrap yard to feed a shredder, shear, and pre-shredder. The shredder is currently installed at the scrap yard and foundation work has begun on the shear and pre-shredder. The E-Crane currently feeds the shredder, which has a target capacity of 20,000 tons per month.
The E-Crane installation took place over two weeks, followed by training and commissioning. E-Crane staff and technicians held a training program at Harsco utilizing customized training and safety modules which were all translated to Portuguese. The training modules were used to train the new E-Crane operators as well as maintenance personnel on site at Harsco.
Adam Enders, one of the E-Crane service technicians on site for training and commissioning, reports, "Harsco is very happy with the setup and with the capacity of the crane. They are really impressed with the amount of material that the crane cane move within a short time, especially compared to their previous equipment."