Powerscreen launches three new machines at CONEXPO 2014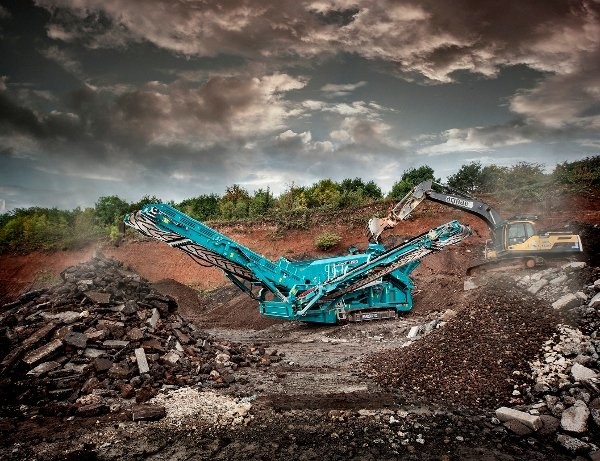 Powerscreen, one of the world's leading providers of mobile crushing and screening equipment, is exhibiting on the Terex stand at booth #1047 in the outdoor Gold Lot at the Las Vegas Convention Centre from March 4th -8th, during this year's CONEXPO-CON/AGG 2014. Powerscreen is showing three new machines at the event: the Powerscreen® Premiertrak™ 300 jaw crusher, Powerscreen® Trakpactor™ 320SR impact crusher and the Powerscreen® Warrior™ 2100 screen.
Commenting on the forthcoming line up at Conexpo, Damian Power, Powerscreen Global Product Line Director, said, "Conexpo is the perfect time to launch these exciting new Powerscreen machines to the global market. We look forward to meeting with customers and discussing the features and benefits of our extensive product portfolio."
All of the machines on display will showcase the rugged new look from Powerscreen which maintains the traditional Powerscreen green colour while adopting a dark grey colour on the chassis and conveyors. The new paint scheme provides an updated, modern look to the machines.
Premiertrak 300 HA Hydrostatic VGF jaw crusher
The Premiertrak 300 jaw crusher features the new hydrostatic drive system option allowing it to reverse and unblock or run continuously in reverse for asphalt applications. It is designed to run at low engine RPM resulting in excellent fuel efficiency and low noise emissions, ideal for urban sites. The Premiertrak 300 crusher features a Vibrating Grizzly Feeder (VGF) set with 50mm bofor bar on the top deck and 30mm mesh on the bottom. The closed side setting (CSS) can be set to 40mm while running in both asphalt and recycled concrete applications.
Other benefits of the machine include: large clearances in the bypass chute to improve material flow and reduce the chance of blockages in sticky material; a large under crusher clearance and full tunnelling to reduce the chance of blockage due to re-bar build up; and a hydraulically lowering conveyor that offers excellent access to reduce downtime should a blockage occur. Rapid set-up times are possible with all folding done hydraulically and no need to work at height so the machine can be moved quickly. Control is via an easy to use PLC screen control system. Jaw speed and CSS can be changed by a single button which allows the machine to be adjusted to suit the application quickly with no tools required.
Trakpactor 320SR impact crusher
The Trakpactor 320SR is a mid-sized horizontal impact crusher redesigned with some key enhancements to offer operators and contractors excellent reduction and high consistency of product shape for performance in quarry and recycling applications. The plant is capable of working in the most demanding environments and features rapid set-up time, fuel efficient direct drive system and excellent output potential of up to 320 tph (352 US tph). The plant features a recirculating conveyor which raises for transport allowing more ground clearance under the machine when moving on site and loading for transport.
One of the most exciting features of the Trakpactor 320SR crusher is the quick-detach post-screen section which converts it to a standard Trakpactor 320 unit. This provides operators with outstanding versatility to use the machine in a variety of different applications.
Warrior 2100 screen
The Warrior 2100 screen is engineered to include our proven Triple Shaft technology first developed for the successful Warrior 2400, a model which is now well established in markets worldwide. This Triple Shaft technology, unique to Powerscreen heavy duty mobile screens, is designed so the 16' x 5' screen box is highly effective and efficient while maintaining exceptional throughput productivity. The extreme screening acceleration offers the Warrior 2100 screen improved capabilities over its class rivals, especially in sticky scalping applications. The machine can process mixed demolition waste which includes grass, soil, concrete, wood and asphalt, and can be configured with a combined top deck of 60mm fingers with 60mm punch plate and a bottom deck of 40mm mesh.
TEREX to showcase comprehensive range of products and services at CONEXPO 2014
Located in CONEXPO's Gold Lot, booth number 1047, the Terex exhibit is designed to introduce the company's latest products and reinforce its commitment to delivering customer-driven equipment and service solutions for the construction, infrastructure, quarrying, mining, shipping, transportation, refining, energy, utility and manufacturing industries.
The Terex Aerial Work Platforms, Construction, Cranes, and Materials Processing business segments will showcase new equipment, innovative safety features and unique service solutions.
Terex Materials Processing will showcase Terex' latest grinding, crushing, screening and washing plant offerings for applications in aggregates and wood waste and C&D recycling.
Powerscreen® and Terex® Finlay branded mobile crushing and screening equipment is offered for quarrying, mining and recycling industries as well as a comprehensive range of Terex® Minerals Processing Systems (Terex® MPS) static, wheeled and modular crushing and screening equipment. Terex Environmental Equipment (TEE) arborist and biomass chippers as well as trommels are also part of the Terex Materials Processing product line-up.
Terex Washing Systems offers cohesive solutions for all material and mineral washing needs supporting mines, quarries and aggregates producers. Powerscreen products on display will include three new machines: Premiertrak™ 300 jaw crusher, the Powerscreen Trakpactor™ 320SR impact crusher and the Powerscreen Warrior™ 2100 high-capacity mobile screening plant.
Terex® Finlay products on display will include two recent model launches to the North American marketplace: the J-1170 jaw crusher and the 684 screen. Terex® MPS will display the new CRJ3750 high-capacity portable jaw plant, the revolutionary LJ-TSV horizontal screen with variable slope operation, and the new MVP380X cone crusher featuring major enhancements that increase productivity.
Terex Washing Systems will exhibit the FM120BW bucket wheel range of sand classification systems that are highly efficient dewatering units. Terex® Environmental Equipment will exhibit a Biomass Whole Tree Chipper, TBC 430. The TEE Biomass 400 series has three different models and supports customers from biomass plans, logging operations, sawmills, forestry services, site clearing and land development.
The Terex stand will of course, also showcase machines from across the company's construction range, including the Tier 4i/ Stage IIIB TSR60 skid steer featuring a rated operating capacity of 1,500 lbs (680 kgs) to the largest machine in the compact wheel loader range, the TL120. Visitors to the stand will learn how the TL120 loader, with its latest Tier 4i/Stage IIIB compliant engine, offers more power and torque at the operator's fingertips with the new Terex Smart Control system for precise, comfortable and productive work.
For more information on Powerscreen® crushing and screening products or Customer Support, please contact your local dealer. Details can be found at www.powerscreen.com.
Related Articles
Traditionally, waste management companies have operated using a simple "management of waste" approach to operating a MRF. Throughput targets and continuous operation (minimal downtime) were the main driving forces. The industry has changed however, and the focus moving forward is now on optimizing system performance and reliability, in conjunction with increasing recycling rates and a drive for a "greener" and more sustainable tomorrow.
When considering the addition of, or upgrade to, an "intelligent" MRF, for municipalities or private operators, the main factors should always be the client's (operator) current requirements, and evolving market needs, which include throughput, reliability, output quality, and adaptability. Equally important is a full understanding of what is really expected from any proposed system. Having an engaged and focused mindset for the project with the client from the beginning, will impact and drive the entire design process. This then impacts the overall project result, through to the productive, efficient, ongoing operation of the facility itself.