Stellar adds 52,000-pound capacity hooklift to NXT line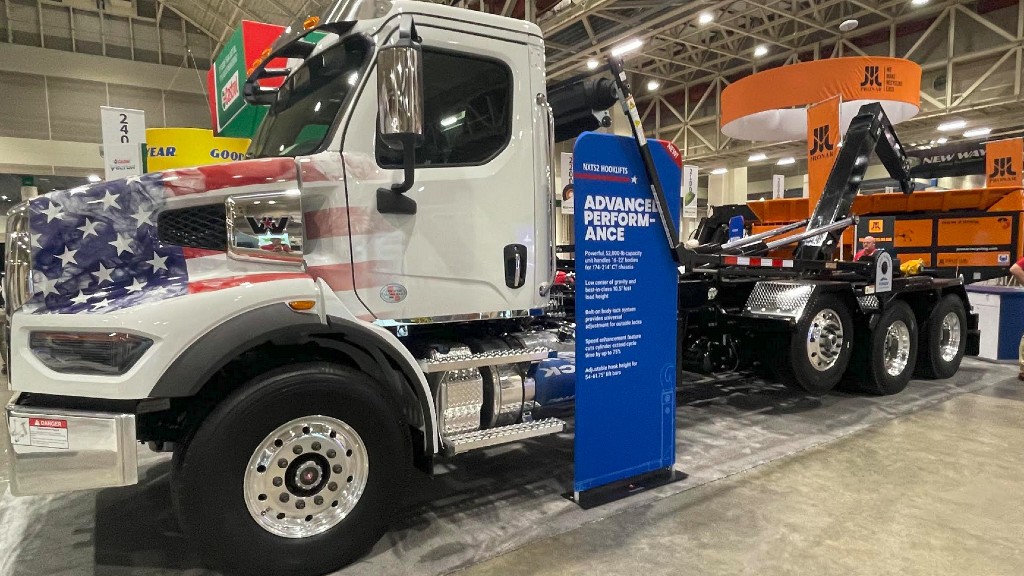 Stellar has introduced the NXT52 hooklift. This 52,000-pound capacity hoist is the latest telescopic hooklift in the NXT series from Stellar.
"Achieving such a compact and versatile unit in the 52,000-lb class is a direct result of listening to our customer's needs and finding a way to meet them," says Tim Worman, the director of product management at Stellar. "This kind of responsive innovation in our hooklift line continues the momentum of the initiative we introduced in 2022."
The NXT52 is capable of loading, unloading, and dumping various truck bodies. The hooklift features a Z-channel base design and a universal body latching system. This system is flexible with outside locks that can be moved by loosening the clamp bolts, repositioning, and bolting them back down. This feature allows the operator to position the body locks in specific locations to accommodate body locks that may not be in the correct spot. The feature of this system eliminates the need to cut locks off, re-weld, or repaint.
The NXT52 also features a universal hydraulic reservoir. The reservoir can be mounted in various positions on the unit to avoid any workaround needs in the instance that there are chassis items that may interfere with normal reservoir mounting.
The hooklift has a 54/61.75-inch hook height and rectangular style secondary jib. With approximately a 10.5-inch lost load height, the hooklift provides a lower vertical centre of gravity and the ability to accommodate down to six-inch subframe heights.
Many features of the hooklift are built for saving time. In addition to the hydraulic reservoir, integrated speed enhancements and soft-stop features on the lift cylinder reduce the time needed for a full extend cycle by 75 percent and allows the body to be brought to a resting position gently on the body saddles.
The NXT52 comes equipped with either air controls or electronic radio remote controls for efficient operation of the hooklift. These control systems offer proportional control operation to allow for precise control in various situations. A feature of the NXT series, the radio remote control, allows for unit operation in either the chassis cab or standing outside of the cab. The radio remote control will be released later in 2023.