US Composting Council show set for January 26th through 29th in Oakland
Industry's largest show to attract over 1,000 composting and organics recycling professionals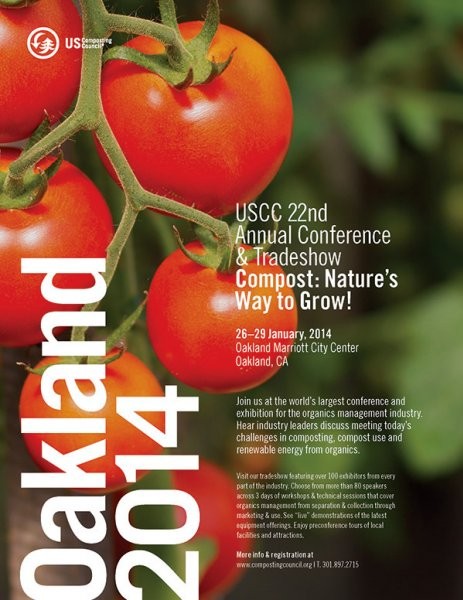 The US Composting Council's 22nd Annual Conference and Tradeshow, this year titled: Compost: Nature's Way to Grow!, runs from January 26-29, 2014 in Oakland, California.
The USCC show is the largest annual trade show in the world aimed specifically at the compost manufacturing and organics management industry. The event attracts over 1,000 composting and organics recycling professionals, provides extensive workshops and technical sessions on a wide range of industry topics (featuring over 80 speakers), as well as networking opportunities for attendees, a dedicated outdoor demo area, and tours of local facilities.
Several developments in the U.S. will be topics of great discussion at this year's conference. With California's new 75% waste reduction mandate and growth in the state's composting infrastructure, the USCC says they expect to surpass attendance of all past conferences.
Also, at the end of 2013, New York City Council passed pathbreaking legislation requiring commercial food scraps from the largest food service establishments to be recycled. The new "Commercial Organic Waste" policy continues the momentum of similar state-wide policies requiring food waste recycling passed in Vermont and Connecticut and initiatives in cities like San Francisco, Austin, Portland and Seattle. (See the full news at www.uscomposting.org.)
Additionally, in recent news, the Composting Council Research and Education Foundation (CCREF) has consolidated scientific data and findings to update a valuable research publication in response to the growing body of research supporting the effectiveness of compost to mitigate storm water by managing rain where it falls, thereby preventing the transport of sediment and harmful pollutants to our nation's waterways. The guide, based on the 1997 edition of the Soil and Water Connection: A Watershed Manager's Guide to Organics, provides water, soil and forestry managers with scientific best practices for compost use.
The document research and production was underwritten by composting industry leaders Rod Tyler (CEO of Filtrexx International LLC) and Patrick Geraty (CCREF Trustee and President of St. Louis Composting, Inc.) "We are thankful to Rod and Patrick for kindling enthusiasm for this project, and to Britt for providing the scientific expertise to the revision, as well as to all of the industry leaders who sponsored," said Scott Subler, Ph.D., CCREF Chair. "Reviving once popular or widely used documents such as the Soil and Water Connection, is one of many roles the Foundation can fill to advance the compost manufacturing industry," Dr. Subler added.
To mark the re-release of this document, the CCREF will provide one complimentary copy to each participant at this year's USCC Conference and Tradeshow. Copies will be available at the CCREF table in the Tradeshow Exhibit Hall. The Soil and Water Connection will also be available for purchase in February.
This year's major CONFERENCE SPONSORS include: BioCycle Magazine and StopWaste.Org, as well as the Biodegradable Products Institute, Environmental Credit Corp, Waste Management, Inc. Vermeer Manufacturing, Redwood Landfill, Komptech (who will show 7 machines at this year's show) and Recology. Recycling Product News is one of more than a dozen media sponsors of the event.
Contact: Emily Kahn @ 703-855-4310 or [email protected] www.uscomposting.org