Redwood Materials makes policy suggestions for EV battery recycling following successful recycling program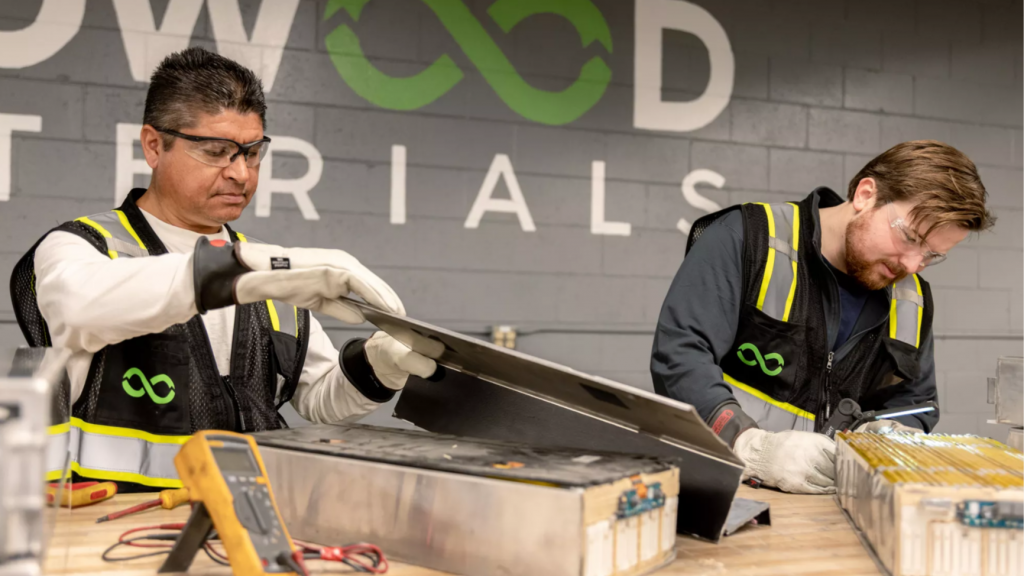 In February of last year, Redwood launched what it considers to be the world's first electric vehicle battery recycling program. The goal was to establish efficient, safe and effective recovery pathways for end-of-life hybrid and electric vehicle battery packs to be recycled, and then share its findings. Over the past twelve months, Redwood worked with partners including Toyota, Ford Motor Company, Volvo Cars, and Volkswagen Group of America as well as dismantlers to collect and recycle lithium-ion and nickel metal hydride (NiMH) vehicle batteries in California.
California is a longstanding leader in the transition to electric transportation and, as a result, is the oldest and one of the largest electric vehicle markets globally, with EVs compromising nearly 19 percent of all new car sales in the state in 2022. As the first wave of these vehicles begin to retire from roads, California's management of end-of-life battery packs will serve as a model for other states and the battery recycling industry.
Redwood has shared a year's worth of findings in hopes of demonstrating the value of end-of-life (EOL) packs, identifying gaps where the industry may need support, and aiding policymakers as they begin to make critical decisions on how best to responsibly manage EV batteries at end-of-life.
Working directly with auto dealers, dismantlers, and aggregators in California, Redwood was able to identify and recover 1,268 end-of-life packs, totaling approximately half a million pounds of material. Of the packs we collected, less than 5 percent were Damaged, Defective or Recalled (DDR). Redwood safely packaged, transported, and recycled all batteries at its facilities in neighbouring Northern Nevada. From the recovered metals, Redwood has already begun to produce high-quality battery materials, anode, and cathode, that can be returned directly to U.S. battery cell manufacturers.
The packs we collected were a mix of older NiMH and newer lithium-ion chemistries from more than a dozen different automakers. Redwood expects mixed chemistries to continue as older, hybrid vehicle models now reaching end-of-life continue to retire in greater numbers from California roads. However, lithium-ion represented the majority of the chemistry types collected and Redwood expects it will continue to grow as it is now the only type of vehicle battery on the market.
The most significant cost of battery pack collection and recycling is logistics. The key to reducing logistics costs for end-of-life battery packs is to achieve economies of scale through increased collection volume and Redwood is confident that, in time, as EOL pack volumes increase, the logistics cost will decrease so that batteries will become assets that will help make EVs more sustainable and affordable in the long run. Today, Redwood's recycling process is already profitable for smaller batteries, such as those found in consumer devices, and production scrap. As logistics becomes a smaller component of the overall value proposition, Redwood anticipates a similar trend to happen for larger electric vehicle batteries in the coming years.
The ability to effectively recover a high percentage of metals (~95 percent) and, in turn, produce downstream battery components from that recycled content demonstrates not only the need for qualified recyclers to manage these batteries but also a clear solution that both addresses EOL batteries and ensures material for future EV production. The value of end-of-life batteries lies in ensuring responsible recycling, and any proposals or actions that add extra costs to the EV battery value chain will put both California and the United States at a competitive disadvantage during this critical period of transition toward clean energy and electrification.
The Inflation Reduction Act (IRA) recently incentivized stringent critical mineral and battery component requirements for EV batteries. To comply with these new requirements, battery makers and automotive manufacturers will need a reliable, domestic supply of both recycled content and battery materials. Redwood's program demonstrates the strong market for these materials within the U.S., especially considering the recent expansion of the Clean Vehicle Credit through the IRA.
With a year's worth of knowledge and counting, it is clear that the market economics for EV battery packs and the valuable metals they contain provide an increasingly strong incentive for responsible end-of-life management. As policymakers across the nation consider proposals to ensure responsible EOL management of batteries, Redwood encourages them to incentivize responsible recycling in the U.S., similar to the policies established by the IRA. Redwood also urges policymakers to be mindful that, while still in the early stages, market forces and industry partnerships are already at work to create safe, efficient, and sustainable pathways for end-of-life batteries.