Buffalo Turbine - more than meets the eye
New York-based manufacturer brings a world of experience to the dust control industry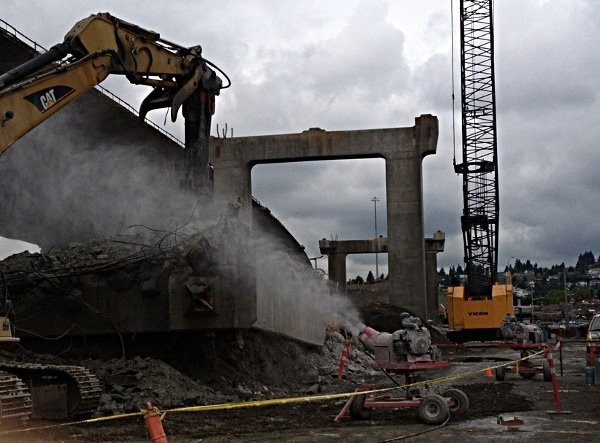 by Keith Barker
On our way to the Canadian Waste & Recycling Expo this past November (2013) in Montreal, I along with RPN colleague and Associate Publisher, Sam Esmaili, took a detour into Western New York State. We were there to visit one of our old friends in the industry, Buffalo Turbine LLC, at their headquarters in Springville, NY, about 40 miles south of Buffalo. After having a few too many "original buffalo wings" as well as the local delicacy sandwich, Roast Beef on Weck (served with au jus on a very tasty salt and caraway seed bun) we took a tour around the countryside that Buffalo Turbine calls home and then paid a visit to the company's factory.
Buffalo Turbine LLC, established in 1945, is in the business of making debris blowers used to maintain golf courses, landscapes, paved areas such as airports, and for clearing snow. In addition to their debris blower lineup, Buffalo Turbine offers a complete line of misting units used for dust control, odour and smoke issues common in demolition, recycling and waste management operations, ranging from composting and transfer stations, to C&D and scrap yard facilities. The company also offers sprayer / duster units for the vector, mosquito and nuisance bug control industry. Units are available in electric, gas, PTO, front mount and hydraulic. In 2014, a new, diesel powered Debris Blower and Monsoon misting unit are scheduled to be released.
Approximately five years ago, Buffalo Turbine developed the industry's first turbine-driven Gyratory Atomizing Nozzle (GAN). This innovation sprays millions of water droplets, approximately 50-200 microns in size, over large areas, covering more than 10,000 square feet (930+ square meters) when using the unit's oscillation option. (The Twin Turbine Monsoon model is capable of close to twice this coverage.) The GAN's design also prevents clogging, when compared to systems that use standard nozzle tips, and because each application is different, Monsoon misting systems with GAN nozzle technology are easily adjustable to use water volumes of less than one gallon per minute, up to 20 gallons per minute.
Units work for more than just dust and odour control. Lower volume water output can be used for evaporative cooling in facilities and on outdoor sites of all kinds. The new Monsoon Air Mister System, introduced on a limited basis in the last quarter of 2013 (with either 110volt or optional 220volt) includes the models BT-MCO110 (Monsoon Ceiling Mount Air Mister with oscillation) and the BT-MPO110 (Monsoon Portable Air Mister with oscillation.) These two units are excellent for evaporative cooling at indoor and outdoor operations where temperatures may regularly reach uncomfortable levels, and they can also be used for dust and odour control applications. Additionally, Buffalo Turbine's engine-driven, trailer-mounted Monsoon units are easily converted for use as debris blowers for site cleanup by simply changing over from the GAN head to a standard round nozzle.
Over the last several years, Buffalo Turbine in partnership with Virginia-based Benzaco Scientific, have implemented an innovative way to control odour and dust simultaneously. The method uses the Monsoon's capability to disperse Benzaco's specialized neutralizing agent at landfills or other waste management and recycling operations. When a customer has a request for odour control, Buffalo Turbine will determine which Monsoon unit will best fit their application, then Benzaco Scientific will complete the system by adding the necessary metering components needed to dispense the proper amount of neutralizing chemical (liquid).
In early 2014, Buffalo Turbine will be introducing their new Diesel Monsoon, complete with a more compact oscillation attachment which connects directly to the end of the Turbine Assembly and which virtually eliminates the original style oscillation base. The New Oscillation design has adjustable ranges from zero to 180 degrees, with two-axis rotation, and the effective coverage (in neutral wind) will still exceed 10,000 square feet. This new, 2-axis oscillation Monsoon attachment will be available on all Monsoon models as of spring, 2014.
What I did not know about Buffalo Turbine before we travelled to Springville was that, like many innovators in our industry, they are a company with a long history in manufacturing, not necessarily or solely within the realm of waste and recycling, and are a specialized supplier to multiple industries, with more than one area of expertise. When entering the 120,000 square-foot factory in Springville (originally built in 1994, and expanded three times since) it was not immediately apparent, walking by the high-tech robotic welders, CNC (computer numerical control) laser cutter, highly trained technicians and a huge range of CNC turning and milling machining centres, some being loaded robotically, that one was also walking into a leading global manufacturer of high-powered Turbine debris blowers and dust control technology.
Buffalo Turbine is a strategic partner to the Horschel Companies (www.horschelcompanies.com) which consist of Horschel Brothers Precision (HBP), Vibratech TVD, Fluidampr, Buffalo Turbine and one additional strategic partner, Composite Panel Solutions. Vibratech TVD (www.vibratechtvd.com) and Fluidampr (www.fluidampr.com) are global leaders in the field of viscous (silicone fluid) damper technology which provides protection against torsional vibrations in engines of all sizes. (Torsional vibrations or harmonics can destroy crankshafts and bearings.) HBP is a high precision contract manufacturer with in-house engineering and capability for CNC milling and turning, metal finishing and assembly, serving the aerospace, automotive, construction and many other industries.
In our age of hyper digital connectivity, it's true, especially in business, that we are deprived of a decent amount of face to face contact with clients and colleagues. Thus, it is easy sometimes to overlook the details – the impressive stories behind the people and companies we come to know via email, phone and at the occasional tradeshow. Our trip this past fall to the Horschel Bros. / Buffalo Turbine manufacturing facility in Springville, NY, was a welcome break from the regular business of producing an industry magazine, and definitely reminded us about just how much goes into the creation and growth of the technology and equipment that drive the recycling and waste management industry.