Aqua Metals successfully recovers electroplated copper from lithium-ion batteries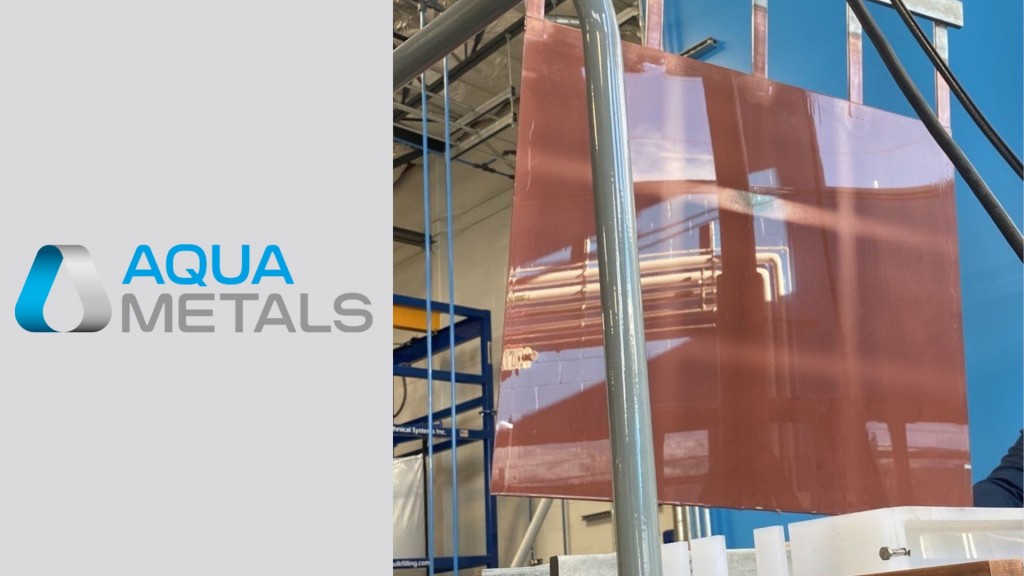 Aqua Metals, Inc. has successfully recovered critical battery metal from spent lithium-ion batteries at a production scale through an electroplating process. The company's pilot Li AquaRefining system has removed impurities and trace metals from tons of recycled lithium battery black mass and then selectively recovered pure metal using electricity instead of process involving furnaces or chemicals.
Copper is the first of the valuable products recycled using electricity in the process, a metal that is essential to clean energy technologies.
Lithium hydroxide, nickel, cobalt, and manganese dioxide recovery will follow so that all the valuable minerals within common black mass feedstock are recycled. Because AquaRefining is designed to remove trace elements and recovers these pure metals selectively, Aqua Metals believes the system can process feedstock with varying concentrations of critical minerals and adapt to future changes in lithium battery chemistries.
Steve Cotton, president and CEO of Aqua Metals, says that the recovery of commercial amounts of metal from lithium-ion batteries using the AquaRefining technology is a milestone for the company.
Reclaiming metals with the company's closed-loop electroplating process enables the efficient and less-expensive production of high-purity products from spent lithium batteries, without high-energy furnaces or the continuous waste streams and expense of one-time-use chemicals.
"We are seeing tremendous progress at our pilot facility, and copper is first in the suite of clean battery metals we expect to recover through Li AquaRefining," says Ben Taecker, Aqua Metals' Chief Engineering and Operating Officer. "We are proceeding to the recovery of battery-grade lithium hydroxide – which we believe will also be a first for the metals recycling industry in North America – then plating high-purity nickel and cobalt, and finally recovering manganese dioxide. We look forward to providing continued updates of milestones and performance from our . . . recycling technology pilot."