Flexible Kleemann screen gets practical workout handling multiple materials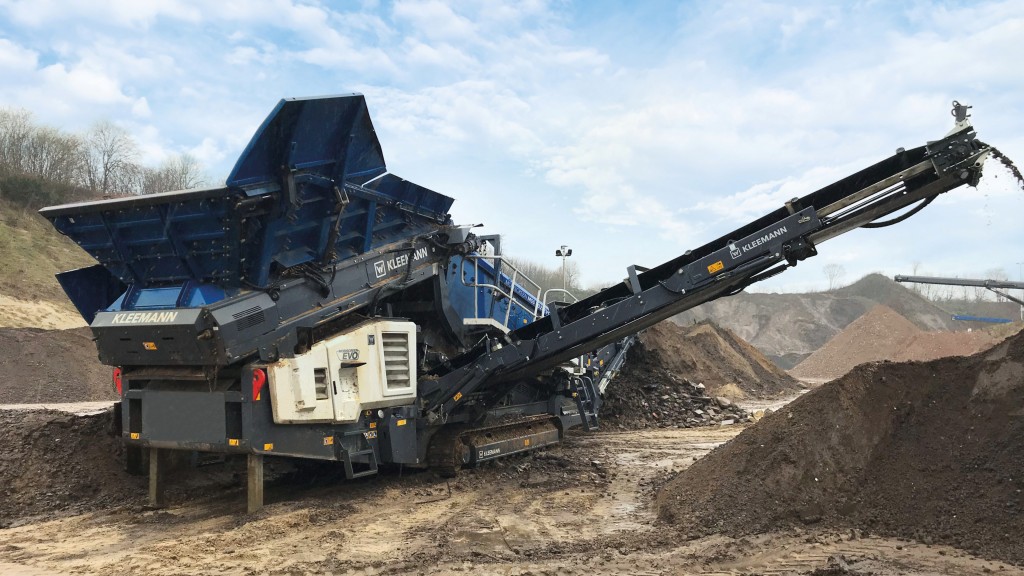 For more than a year, Kleemann's MOBISCREEN MSS 802i EVO screen for coarse elements has been processing a wide range of different materials at an aggregate operation in Germany. The screen's flexibility has been put to the test handling sand and fine materials in the gravel quarry alongside recycling use handling materials like rubble and railway ballast. It is even able to handle often cohesive topsoil.
The screen can handle stone material ranging from very fine to very coarse - 0 to 500 mm - and with all degrees of contamination. It produces a variety of final products as well, from 0 to 45 mm as needed.
André Krebs, Proprietor of Ernst Krebs GmbH & Co. KG, says the MSS 802i EVO faces some challenging material on the gravel side of the business.
"Here we have to deal with a lot of sand and a relatively small proportion of stone. This means that the side discharge conveyor for fine grain has a real tough job," Krebs relates.
Ernst Krebs, which operates several gravel quarries, was looking for a new screening plant to expand its capabilities in 2021. Their needs were, above all, flexibility and performance both in gravel and recycling, a difficult challenge for screening plants. A good relationship with Kleemann's parent company Wirtgen led to an agreement that gave them the opportunity to acquire the MSS 802i EVO.
"In our gravel quarries and in recycling we have already been using Kleemann machines for a long time with real conviction. I was therefore fully confident that this machine would also do a good job," Krebs said.
The screen casing on Krebs' new machine can be adjusted more than 20 percent steeper than comparable plants, which guarantees a great cutting effect for the separation of fine material such as sand, and a significantly higher output.
A large feed hopper is part of the machine's flexibility. If needed, the hopper rear wall and filling aids can be folded variably, allowing for loading from different heights whether from the sides or the rear. Screen media changes are comparatively easy, even on the lower deck, as the screen casing can be placed in a completely horizontal position. Screening parameters can be adjusted precisely, and conversion - for example, from three to two final grain sizes - is easy and uncomplicated.
Discharge conveyors on the MSS 802i EVO can be folded in without disassembly, making the screen easier to transport from work site to work site. Stepless driving control means that the plant can be moved precisely into position.
Operation has proven to be intuitive, which helps to ensure safety around the machine. All relevant functions of the machine can be operated from a safe distance. A display can be plugged in at different points on the machine, allowing the user to be near the function being executed at all times. The difficulty of operating levers arranged remotely from the component to be folded has been eliminated. Work during setup and service has also been simplified.
Krebs says it is obvious that the Kleemann team has looked at ways to make the machine work more effectively for operators in practice.
"Everything is so much quicker, setup times are shorter, and output is higher. This pays off at the end of the day," Krebs says.