Track horizontal grinder a game-changer for green waste recycler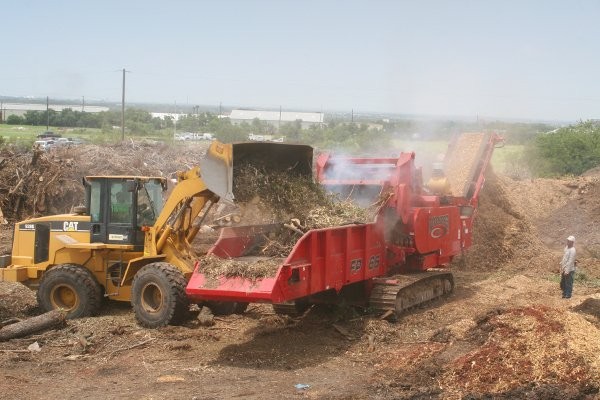 Patrick Whittlesey, knows a thing or two about planning for the unexpected. The Texas native and owner of Austin Landscape Supplies, has been in landscaping material businesses for more than 40 years and at one point well into his career, he was forced to restart his business from the ground up. That business, like many at the time, had to deal with the fallout from the 9/11 attacks and the recession of 2008.
Through it all Whittlesey has remained focused on maintaining slow, but steady growth, refusing to fall into the trap of overbuying or overbuilding. From a small chip processor to his current unit, a track-mounted Rotochopper FP-66, Whittlesey says the goal has always been the same: get the production to best meet the demand.
Today, Austin Landscape Supplies is seeing higher volumes of brush and wood waste than ever before, yet Whittlesey is comfortable in knowing that he has the grinder and support equipment to meet the demand for end products.
Thinking ahead
"Truth be told, we started this business with $4,000 and some innovative ideas," says Whittlesey. "We initially focused on providing soils and soil blends created from landscapers' and utility companies' chips, but I knew from previous experience that there was a decent market for mulch out there. So, as we gained more experience, that became something of a focus for us: turning those chips into a saleable mulch product.
"To gain some familiarity with what equipment was available, we attended a lot of trade shows throughout the area. At one in San Antonio in 2006, we struck up a conversation with the team from Rotochopper (out of St. Martin, Minnesota). It turned out to be one of the luckiest things to happen to this company." At the San Antonio trade show, Whittlesey learned about Rotochopper's CP-118 Chip Processor. The machine could transform ordinary wood chips into a high-value coloured mulch, or natural landscape mulch in a single pass.
"The 118 seemed like the ideal tool for us," he says. "Not only would it enhance the composting process by downsizing the material (something we were sorely in need of) it would also help us take the next step in building our operation, so we committed to it and were suddenly in the mulch business."
Bigger and better
The CP-118 served Whittlesey well for about three years, as they purchased chips from area utility firms and landscapers, and created a mulch product which they sold in bulk. As word of their operation spread however, incoming volumes of tree and brush waste were increasing rapidly.
"We knew that bringing in such material was the next logical step in our development, but also knew it was beyond the capabilities of our chip processor," he says. "So we once again talked with Rotochopper and were soon the owners of a newly-reconditioned MC-266 horizontal grinder. From a production standpoint, it was everything we could ask for in a grinder. We were getting outstanding volumes through it, we were meeting the increased demand for our mulch products, and so on."
Whittlesey used the MC-266 for another three years before he learned about Rotochopper's new FP-66 grinder. Offering many of the same features as Rotochopper's larger B-66 model, the lower horsepower of the FP-66 seemed like a better fit for his needs. When he heard that it would also be available on tracks, he became even more interested.
According to Whittlesey, the concept of a track horizontal intrigued him because, while their existing grinder was more than doing the job, having onsite mobility would address so many vexing issues for them, including cleanup, fuelling and accessibility to piles.
"There are certain problems that you encounter as part of the grinding and colourizing process," he says. "For example, material always gets underneath any machine and needs to be removed. That's just the nature of the beast. However, we also learned that water, from both the dust suppressant system and from the colourizing process, can make things a real mess under the machine – sometimes to the point that the grinder would become mired in the soil and need to be pulled out using a loader. We felt that a machine on tracks would alleviate all those concerns, so we placed our order to get the first track-mounted FP-66 off the line."
Ideal fit for a diversified recycler
Today, operating out of its 8.4 acre site in Georgetown, Austin Landscape takes in roughly 25,000 cubic yards of material annually from landscapers, homeowners and utility contractors, and creates a variety of hardwood mulch products ranging from coloured to natural, and from organic to a playground-grade material. The new FP-66 grinder, says Whittlesey, fits his operation like the proverbial glove.
"For us, adding that new machine was a real game changer," he says. "We can now take in more material, bigger material, a wider range of material, and process it faster than ever before. Certain features on the FP 66 have also gained us some inroads into new markets. For example, its enhanced cross-belt conveyor magnetic system played a huge role in allowing us to make our playground grind and get that valuable IPEMA certification."
Austin Landscape's business is a classic example of a closed-loop approach: the people and companies who supply their feedstock – landscapers, homeowners and utility contractors – are essentially the same ones who buy their products. The company has also now begun selling mulch and soils to area municipalities and just recently started to bag its mulch product.
The soils component of Austin Landscaping Supplies' business is comprised of a two-acre compost operation that takes in horse manure from area farms, and combines it with a rough grind mulch and static-composts material to create the basis for its soil products.
"The entire process takes about six months," says Whittlesey. "We turn the windrows using a tractor pulling a Sittler compost turner which has an injection system that adds the water needed for the composting process. Once it is ready, it is gathered, run through a McCloskey trommel, then custom-blended to create any of the ten different soil mixes we offer our customers."
Whittlesey says it is the "blend" of the traditional with state-of-the-art that is allowing Austin Landscape Supplies to make the incremental gains it has to date. When it comes to his new FP-66 horizontal grinder, he is very happy.
"The tracks are an upcharge versus the traditional wheel-mounted grinder, but in my estimation, it is worth every penny in the benefits its provided – and we've only had it less than a year.
"We no longer have to move a pile to grind it, we can take the machine straight to that pile, which reduces wear on the loaders. "For maintenance, we can easily move the machine to a paved area, improving the work environment for the mechanic and reducing the risk of puncturing tires on the support vehicles, continues Whittlesey.
"Even though the company offers grinders with engines as large as 950 hp, we ordered ours with a 630 hp Cat engine which will still handle anything we can feed it, but is giving us a nice savings in fuel costs. "The people at Rotochopper promised a lot with this machine and it's delivered on every promise. Cliché as it sounds, I really feel that 'Once you go track, you'll never go back.'"