Rumpke partners with Machinex on 55-ton per hour MRF
Facility rebuilt after devastating fire in 2012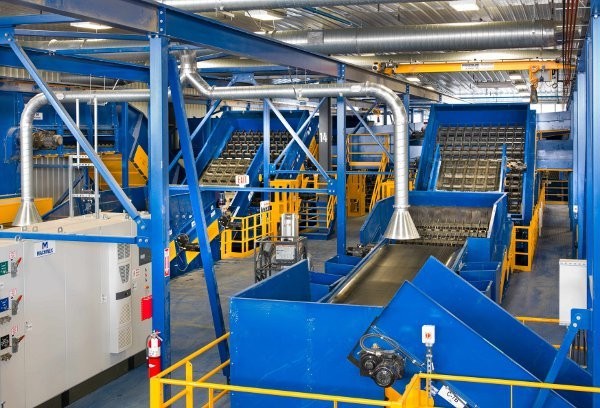 On November 14th, in St. Bernard, Ohio, Rumpke Consolidated Companies, Inc. unveiled its largest, fastest and most technologically advanced recycling facility to date.
The new facility, Rumpke Recycling Cincinnati, was rebuilt following a devastating fire in April 2012 which destroyed the company's 25-ton per hour facility. The result is a $32 million, 100,000-square-foot MRF that houses technology and equipment capable of sorting 55 tons of recyclables every hour. The complete material recovery system, designed by Machinex, has the potential to process one million pounds of input daily and will serve more than 4.5 million residents in Cincinnati and beyond.
"I am very proud of this new facility," said Vice President Jeff Rumpke. "However, I am more proud of our team, and how we all pulled together in the hours after last April's devastating fire to come up with a short-term plan that ensured uninterrupted service for our customers and a long-time vision to grow our business."
After the fire in 2012, Rumpke's recycling team visited a total of nine material recovery facilities including three recycling centres in California, one in Rhode Island and five in Canada, before deciding on the design and the equipment that would be incorporated into the new Rumpke Recycling Cincinnati facility. Four different equipment systems were proposed and considered before Rumpke selected a Machinex system.
"Machinex is extremely proud to partner with Rumpke on its state-of-the-art recycling facility, said Pierre Paré, Machinex CEO. "This system is the achievement of a work team where both companies know-how and expertise has been combined. Machinex provided a custom design system combined with the latest technologies on material separation."
State-of-the-art technology
Rumpke's Cincinnati facility is built around a combination of the latest in sorting technology, including six optical scanners for plastics and fibres, and two electromagnetic eddy currents as well as disc screens for sorting glass, plastics, containers, paper, cardboard, aseptics and metals. Machinex also supplied a SCADA (Supervisory Control and Data Acquisition) system to monitor the operations and provide useful data for the plant management.
According to the company, a great feature of the Rumpke plant design is the single level platform that allows operators and sorters to access the entire system without having to go up and down steps or ladders. Also part of the Rumpke system are two single-ram extrusion balers, using pre-press and shear technology to add redundancy and handle the high volume of containers and fibre generated by the system.
"Machinex Single Ram balers are really impressive and we are very pleased with our choice," said Larry Ochs, maintenance and facilities manager at Rumpke Recycling. "They have a high production capacity and incredible density."
Chris Hawn, North American sales manager at Machinex, who also worked previously with Rumpke on the renovation of their Columbus, Ohio MRF said, "We have a history with Rumpke and we are familiar with their objectives. At their Columbus facility, a 35 tons per hour plant, we were able to meet or exceed all purity and efficiency rates. Our focus on Rumpke's Cincinnati facility capitalized on the best practices identified from the Columbus project, resulting in an enhanced system with customized equipment and additional optics."
The future
Rumpke Recycling Cincinnati employs nearly 100 employees to sort 500 tons of material daily. However, the company hopes to double the number of tons processed with the opening of their new facility.
"We designed our new facility with the additional capacity to handle growth as recycling increases in the region, as well as provide the ability to process additional types of materials as new recycling markets become available," added Rumpke.
"We are committed to growing the recycling effort," Rumpke continues. "By investing in technology, we have increased the efficiency of recycling and we continue to drive down the cost to recycle. Today, we can go to a home or business owner, examine their waste stream and identify a variety of waste solutions offering maximum recycling opportunities at the lowest cost possible, making recycling a win environmentally and economically."
In operation since 1932 and headquartered in Colerain Township, Ohio, Rumpke is one of the largest privately owned residential and commercial waste and recycling firms in the U.S., providing service to areas of Ohio, Kentucky, Indiana and West Virginia.