New Way helps with Colorado floods / moves forward with expansion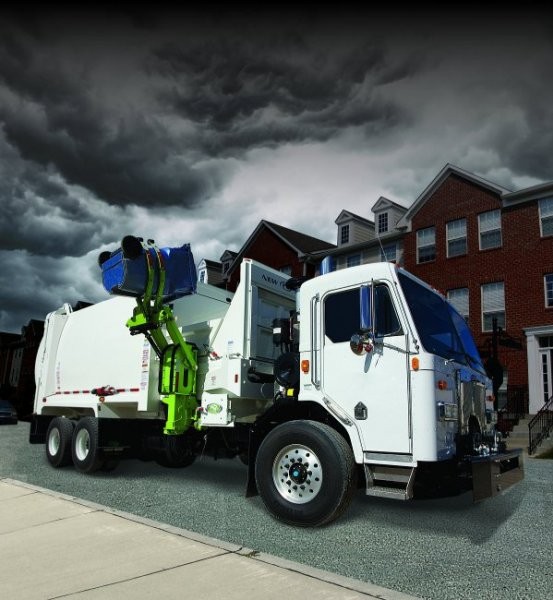 New Way's Cobra Magnum refuse / recycle truck can now be credited for more than its crushing power. Following the heavy flooding that devastated the Estes Park, Colorado region in September, the company dispatched one of their signature refuse vehicles to aid with clean up.
The powerful rear loading truck was driven to Colorado by staff from New Way dealer Elliot Sanitation Equipment of Lincoln, Nebraska and operated by employees of Gallego's Sanitation of Fort Collins, Colorado.
The September floods were the worst the Estes Park area has ever seen, with as much as 17 inches of rain falling in one day. The flooding killed eight people, destroyed approximately 2,000 homes and 200 businesses, damaged more than 16,000 homes and crippled 200 miles of state highways and 50 bridges. With the massive amount of damage the area sustained, clean-up efforts are ongoing (as of Nov. 11, 2013). The New Way Cobra Magnum continues to aid in the cleanup, doing its part to pick up demolished homes and debris.
"These floods caused so much devastation to the area, it's hard to fathom," said Phil Allen, Executive VP of Sales for New Way. "We are proud to be able to help and hope the aid of our truck will expedite cleanup so people in the region will be able to rebuild as soon as possible."
Skyrocketing sales prompt expansion for Scranton Manufacturing
by Rebecca McKinsey,
( Reprinted from an article run in the Caroll Daily Times Herald, October, 2013. )
John McLaughlin, CEO of Scranton Manufacturing, explains how a jig is used to help build the bottom of New Way refuse trucks. The jig rotates so welders do not have to work at odd angles. The company's refuse trucks have been used in weddings and funerals. It makes them front-loading and rear-loading - it even makes them pink if you want. But it's a newer automatic truck that loads refuse on the side, the New Way Sidewinder, that's prompting Scranton Manufacturing Company Inc. to expand.
The various companies under Scranton Manufacturing's umbrella make mobile and stationary compactors, supercars, mobile veterinary clinics, animal transport units and leather holsters for deterrent devices such as pepper spray.
The refuse trucks, though, are the company's main bread and butter, and although Scranton Manufacturing has successfully sold front- and rear-loading trucks for years, the Sidewinder is rapidly becoming more popular. It's being used in Carroll, Glidden and other nearby cities.
"This is a growing trend in the industry," said John McLaughlin, chief executive officer. "The driver can pick up garbage without having one or two people in the back, like with a rear-loader. It's a great labor-saver. It reduces the possibility of injury, and it's highly efficient."
With a Sidewinder, garbage collectors are able to cover twice as many homes in a day, compared to refuse trucks that load in the rear, he said. The Sidewinder differs from other refuse trucks not only in how it works but also in how it compares to its competitors, said Jim Ober, vice president of operations.
"You'll see that for the most part, we and our competitors make a good product," he said. "But the Sidewinder does two times the work, and the competitors are failing (to make competitive trucks). You bring our automated truck and run it beside another, and (customers) would say, 'We want your truck.'"
Compared to the company's 15-20 percent of growth each year, sales of the Sidewinder, which has been on the market for four years, are growing 80-100 percent each year, Ober said.
Because the automatic side-loader's production is rapidly growing, Scranton Manufacturing is planning to build a 56,000-square-foot addition onto its Scranton facility, which currently measures about 115,000 square feet.
The goal, according to the company, is to start the addition this fall and have the shell up by winter, although as colder weather approaches, the project could be pushed back a few months. The company has expanded on a smaller scale several times, but this will be the largest addition it has added.
"We've expanded here and there, but we're at the point that here and there isn't cutting it," Ober said. With the expansion, Scranton Manufacturing expects to have at least 40 new positions available within the next two years - welding, painting, assembly and other jobs. Longer-term, the new space will allow for a total of 75 new workers.
Scranton Manufacturing is also planning an addition at its Lake City location, where its mobile veterinary clinics are manufactured. That expansion has a similar timeline to that in Scranton. The company's locations in Lake City and Carroll - Scranton Manufacturing has a 40,000-square-foot space here that manufactures sub-assembly parts - allows it to reach more workers, McLaughlin said.
The company started out selling agriculture equipment, but during the farm crisis in the 1980s, business dropped dramatically. About then, the company learned of a business owner in Des Moines who manufactured refuse trucks and was struggling as well.
"He was in trouble. We were in trouble," McLaughlin said. "We were so poor we couldn't buy pencils."
But Scranton Manufacturing purchased the struggling company and built it up, keeping the New Way name, and that became the new face of the company. In the 1990s, the company had fewer than 50 employees; now, it employs almost 250. Its payroll is about $9 million in Scranton and Carroll.
"Today, now that we do have the name and tremendous brand recognition, we find we're acquiring the top people in the industry; they are coming to us from other companies, our competitors," McLaughlin said. "We have a great image in the industry. People want to work for us."
"We're scared that if we don't expand our capabilities, all our efforts to capture this market share will be for naught," Ober said.
Scranton's expansion will include additional space for painting trucks; right now, the Scranton location has only one paint booth. And although the factory floor is built for effectiveness, operates under "lean manufacturing" principles that maximize efficiency and offers rotating jigs to keep welders from having to work at odd angles, it can be tight for space. The addition will allow for more breathing room.
The additional space will also allow the company to introduce a new product, a drop-frame side-loader that allows garbage and recyclables to be loaded manually as well as automatically and accommodates bulkier items such as couches.
"It's a niche market, but it's a higher value in the industry," Ober said. Citing potential policy changes that could affect businesses, McLaughlin said it's difficult to predict where the company will be in the next year or two.
"I don't expect any great growth in 2014," he said. But he does anticipate at least 15 percent growth for the company in the next year, and slow but steady increases after that. And although the expansion will likely cost several million dollars once the building, concrete, utilities and equipment are taken into account, Scranton Manufacturing has decided it's time.
"We have played our cards right and paved the way to our growth," Ober said. "I know a year from now if we don't do this, we'll regret it."