STEINERT mobile app allows real-time monitoring of sensor-based sorting machines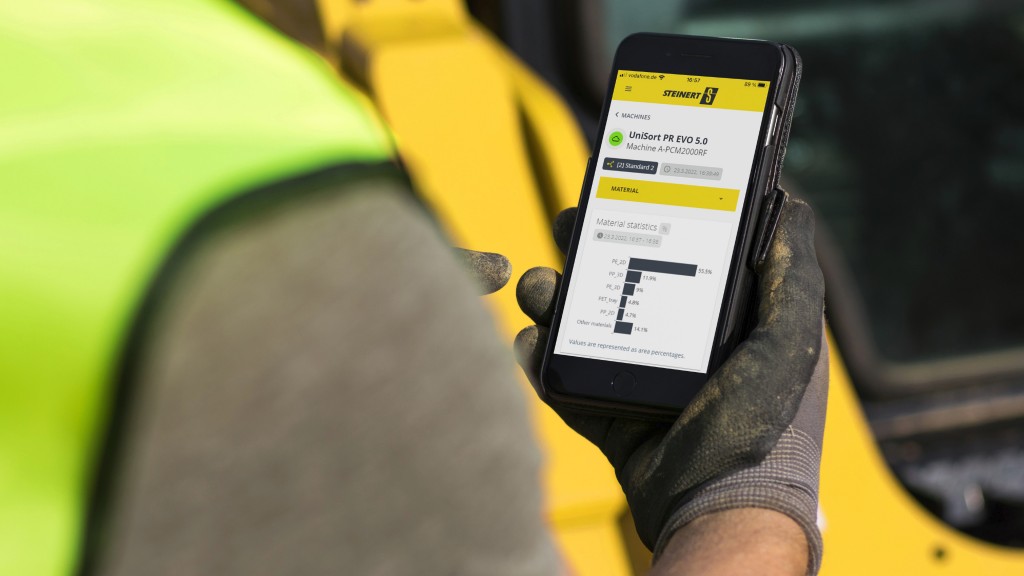 STEINERT.view is a monitoring solution for STEINERT sensor-based sorting machines. It gives users insight into the availability and output of individual machines, allowing them to learn more about the condition of their applications or sorting facility.
Designed as a mobile-first app, STEINERT.view provides users with a quick overview of the key performance and output data. At the same time, complex process technologies can be visualized. Filter functions mean that users never lose track of things and can easily identify problem areas or untapped potential.
STEINERT.view resulted from working in close collaboration with customers. Not only is it easy for novices to get to learn and offers added value for advanced users. Backwards compatibility means that the solution can be integrated into existing systems to provide new opportunities. STEINERT.view is available as an app for all common screen sizes on app stores for all new STEINERT sensor sorting units. Upgrades are available for machines constructed in 2018 and later.
Monitor the availability and output of your applications
Rapid access to a multitude of metrics helps STEINERT.view structure a large number of processes.
Problems can be proactively fixed by making changes to metrics such as belt cover or compressed air consumption. Before service staff even get to the machine, they know what work they can expect to be doing and can use mobile access to get other staff started without delay. This cuts downtimes and improves speed and mobility.
STEINERT.view can also assist with improvements to sorting performance. Changing the grain size distribution can impact the production units. Comparing nominal and actual values in a graph reveals where action needs to be taken right away. The data can be used to visualize the effectiveness of measures so that the user can get closer to a machine's optimum operating point.
Collected data helps provides insight into STEINERT machines. Changing the material composition can allow conclusions to be drawn about the efficiency of an upstream screen or the quality of a batch. This produces operating transparency across the entire system for improving operating output and optimization of resources.
Your data is in safe hands
STEINERT.view is an IoT platform based on international standards whose app visualizes performance data. The transmission of data is always secured via TLS using the MQTT protocol and data-at-rest is 256-bit AES encrypted, using Microsoft Azure as the cloud service provider. STEINERT is therefore joining the list of Azure users who represent 95 percent of Fortune 500 companies.
Creating new value from primary and secondary raw materials
STEINERT.view provides a data-based perspective for sourcing resources from primary and secondary raw materials. When combined with STEINERT sensor-based sorting machines, STEINERT.view provides technologies for finding and sorting resources and thereby creating new opportunities for overcoming a lack of resources.