E.L. Harvey & Sons opens 55-tons per day recycling facility in Ohio
Family-owned Westborough business' big move into commingled recycling through partnership with systems provider BHS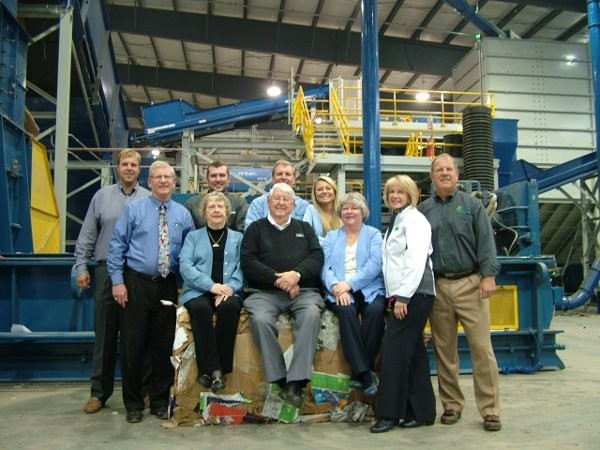 E.L. Harvey & Sons recently opened a new state-of-the-art single stream recycling facility to serve residents in the Hopkinton, Massachusetts, nearby Westborough and surrounding areas. The materials recovery facility (MRF) was designed, manufactured and installed by Eugene, Oregon-based Bulk Handling Systems (BHS), is housed in a new 80,000 square-foot facility and is permitted to process up to 600 tons of residential recyclables daily.
The highly-automated MRF, which includes the latest in screening and optical sorting technology from BHS and the company's NRT brand, recovers more than 95 percent of available recyclables, has created 35 new jobs,with an additional 45 to 65 expected, and provides surrounding communities the opportunity to participate in single stream recycling.
Ben Harvey, President of E. L. Harvey & Sons, stated, "This project will help communities and businesses throughout Eastern Massachusetts increase recycling rates, decrease disposal costs, and lessen the use of traditional disposal sites. It is a step towards helping The Commonwealth of Massachusetts Solid Waste Master Plan reach its 56 percent recycling goal as established by The Massachusetts DEP."
"We chose BHS after an intensive comprehensive analysis," said E.L. Harvey & Sons Executive Vice President Steve Harvey. "A great deal of research and site visits went into the decision; the deciding difference was the superior design and performance of the BHS screens, which gave them the competitive advantage. The equipment is performing to my expectations. What BHS personnel stated and what the reality is was right on target."
"The Harveys have been leaders in this industry and in their community for decades, and it's an honor for them to place their trust in BHS," said BHS CEO Steve Miller. "E.L. Harvey & Sons has a great story and a long track record of excellence in operations. I have no doubt that this system will deliver performance for years to come for their business and the communities that they serve."
"We have a very good working relationship with BHS," Steve Harvey went on to say. "The field support, installation and engineering crews have been top-shelf. The project engineer, Bob Fry, was always available for me. All of our calls, questions and requests have been handled with first-class professionalism and in a very timely manner. They have provided 24/7 service to me, and believe me, I have tested it."
Materials to be recovered at the new facility include fibre, OCC, ONP, mixed fibre, plastics, PET, HDPE-N, HDPE-C, mixed plastic, metals, ferrous metal and aluminum.
Headquartered in Westborough, Massachusetts, E.L. Harvey & Sons is a full service waste hauling, transfer, and recycling operations. It has been an independent, family owned and operated business since it was founded in 1911. The company's Westborough/Hopkinton 100-acre facility houses the company's main office, the new single stream MRF, a 30,000 square-foot paper and electronics recovery facility, a transfer station, a construction and demolition (C&D) recycling facility and maintenance and fabrication facilities.
Headquartered in Eugene, OR, BHS is a worldwide leader in the innovative design, engineering, manufacturing and installation of sorting systems and components for the solid waste, recycling, waste-to-energy, and construction and demolition industries. Clients around the globe choose BHS because of its experience, dedication to cutting-edge technology, quality construction and durability, and unmatched customer service. BHS has built some of the largest and most durable MRFs in the world – and are achieving the highest throughput, recovery and purity rates in the industry.