B.C. artists and divers working with Return-IT to recover ocean trash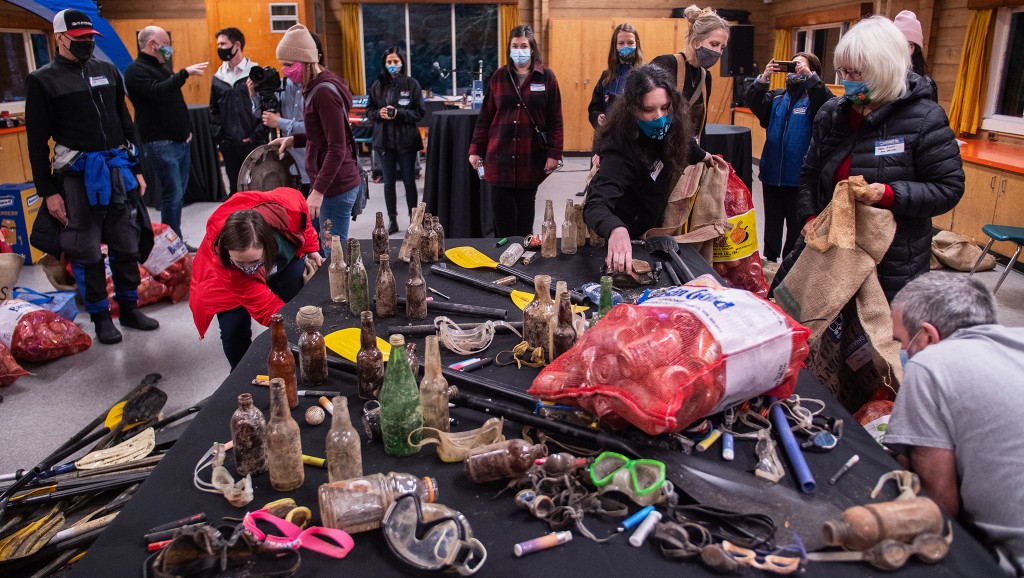 Based out of Squamish, B.C., near Vancouver, The Sea to Sky Arts Council Alliance has partnered with Divers for Cleaner Lakes and Oceans, Return-It and local artists to take the next step in the creation of southwestern B.C.'s first-ever travelling environmental art campaign. The campaign, called Diving In: The Art of Cleaning Lakes and Oceans, involves eleven artists, from North Vancouver to Pemberton, which have been selected to represent their local arts councils in turning the trash collected by volunteer divers into treasured art pieces.
Trash to Treasure: Artist Materials Unveiling occurred on December 11th in Squamish B.C. The event put the discarded items recovered by Diving In teams on display, providing an opportunity for artists to assess materials they will work with.
"Our mission is to clean up the lakes and oceans in the Lower Mainland and to work with local artists to turn the objects into beautiful pieces of art - giving the waste a second life," said Amy Liebenberg, Project Manager, Diving In: The Art of Cleaning Lakes and Oceans. "We hope that the artwork made through this project educates and gives us all an impactful reminder about the importance of recycling responsibly and reducing waste."
Over the next few months, the artists will get creative with the objects removed from local waterways and turn it into unique pieces of art. The artwork created from reimagined trash will tour galleries from North Vancouver to Pemberton, serving not only as a creative way to upcycle items that would have otherwise been left in our waters, but a form of communication. The hope is that the art will reach British Columbians through storytelling - creating awareness and changing consumer behaviour to responsibly manage their waste.
"The cultural richness and beauty of our natural environment is what attracts people from around the world to our region," said District of Squamish Mayor Karen Elliot. "The importance of helping our waterways stay as clean and pristine as possible cannot be understated, and to that end, we are pleased to be part of this event and congratulate Divers for Cleaner Lakes and Oceans, Return-It, and the Sea to Sky Arts Council Alliance, for turning a wonderful concept into a reality."
Return-It, the BC-based stewardship and recycling organization that recovers more than 1 billion beverage containers each year, is supporting multiple beach cleanups and dives along the Sea to Sky corridor and Burrard Inlet, near Vancouver, as well as funding the soon to be unveiled art tour.
"We are pleased to be working with like-minded organizations that share our commitment to positive action and help further our goal of educating British Columbians on the importance of protecting our environment," said Allen Langdon, President and CEO of Return-It. "This initiative increases attention on the impact of discarded materials in our oceans and waterways. We are fortunate to have many ways to properly recycle in BC and there is no reason for material to end up in our ocean and waterways," said Langdon.
"Our waterways are precious, and every pollutant that goes into our water has the potential to cause problems," said Henry Wang, Founder of Divers for Cleaner Lakes and Oceans. "Since 2013, we have completed over 150 cleanup dives, removing nearly 40,000 pounds of trash from our oceans and lakes."
For more, check out @DivingInBC on Instagram or Facebook, or visit DivingInBC.com.