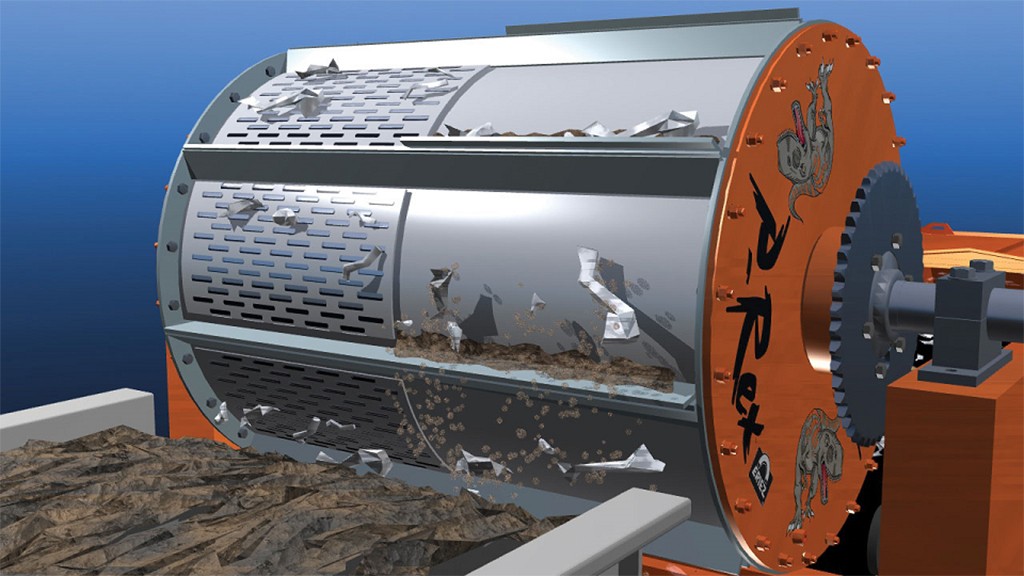 2021 marks 11 years since Eriez introduced its P-Rex (Permanent Rare Earth Xtreme) scrap drums and, according to the company's Recycling Market Manager Mike Shattuck, they have continued to develop and innovate the technology in this time.
"While we initially marketed P-Rex mainly for scrap recycling, today it is found in a variety of other successful applications and features many improvements," explains Shattuck.
He says P-Rex represents a historic breakthrough in ferrous separation. Its powerful magnetic circuit is up to 40 percent stronger than electromagnetic drums and is capable of moving ferrous scrap at twice the distance. With a consistently high magnetic field from edge-to-edge, P-Rex has a much higher recovery than standard drums and facilitates more agitation to remove ferrous from debris, providing a cleaner ferrous product.
According to Eriez, its research and development staff set out to design a drum to recover electric motors (known as "meatballs") and spheres from the scrap recycling process as a means to keep these dangerous materials out of the fluff, thereby reducing the opportunity for fires.
"Although P-Rex is extremely effective for this purpose, we soon became convinced that we could further harness the power of this drum in additional ways and incorporate improvements," says Shattuck.
Eriez has since partnered the P-Rex with the Shred1 Ballistic Metal Separator. The P-Rex provides more copper bearing material to the Shred1. This greatly increases the copper pickings, resulting in increased revenue.'
"By utilizing the P-Rex in conjunction with the Shred1, copper pickings from many yards went from 6 to 8 pounds per ton to as high as 12 lbs per ton of shred," says Shattuck.
Another achievement occurred, he says, when Eriez developed their "under flow" process, utilizing the P-Rex Scrap Drum and its multiple agitations. This process provides a cleaner ferrous product, as ferrous is passed under the drum instead of over the top. This allows fluff to fall directly to the nonferrous conveyor instead of back into the line of feed. With the multiple agitations of the P-Rex, and the traction plate technology which keeps ferrous from bunching up on the drum surface, the result is a much cleaner ferrous product.
Shattuck continues, "The huge field of the P-Rex and its extraordinary strength make it ideal for waste to energy plants where a large gap is required. The raw strength also lends itself to slag recycling operations where trace amounts of ferrous may be attached to large pieces of nonferrous. The unmatched power of P-Rex is exceptionally effective in these very difficult applications."
RevX-E eccentric eddy current separators are more maintenance friendly
According to Eriez Separation and Recycling Product Manager, Chris Ramsdell, the company consulted with recycling customers during the process of updating the latest model RevX-E eddy current separator to meet their needs, with features including a more maintenance-friendly package. 
Ramsdell explains, "We consistently heard the same demands from customers: they wanted high power with low maintenance, minimal downtime and a longer service life. We delivered on all these points with our RevX-E Eddy Current Separator."
Eriez' RevX-E Eddy Current Separators feature an eccentrically mounted magnetic rotor within a non-conductive shell for separation of nonferrous metals. The rare earth rotor produces a powerful field focused at the end of the belt. 
"We thought a lot about ease of maintenance when developing this machine," says Ramsdell. The RevX-E's updated design takes up less floor space and incorporates a cantilevered frame which enables maintenance staff to change the belt in less than 10 minutes. A new hood with adjustable splitter allows operators to handle nonferrous materials in varying sizes and ensures optimum separation.  Large access panels all around the machine make entry for maintenance hassle-free. Units also include direct drive for both the rotor and conveyor. 
The RevX-E is available in two models: ST22 and LT2. Both models are manufactured on the same eddy current separator framework. Ramsdell says the only difference between the ST22 and LT2 is the magnet configuration on the rotor assemblies.
ST22 features a 22 pole rare earth eccentric rotor and is designed to handle fine materials that are less than 1-inch. This rotor option offers a high pole change frequency for removal of fine nonferrous metals from shredded plastics / PET flake.
LT2 features an eight pole rare earth eccentric rotor and is designed to handle 1-inch and larger coarse materials. This rotor option offers a deep, high-powered eddy current field that allows for the removal of larger nonferrous metals such as crushed aluminum cans from a PET bottle stream.