Scrapping trains, planes and automobiles
SLM Recycling is one of the most diversified scrap recyclers in the business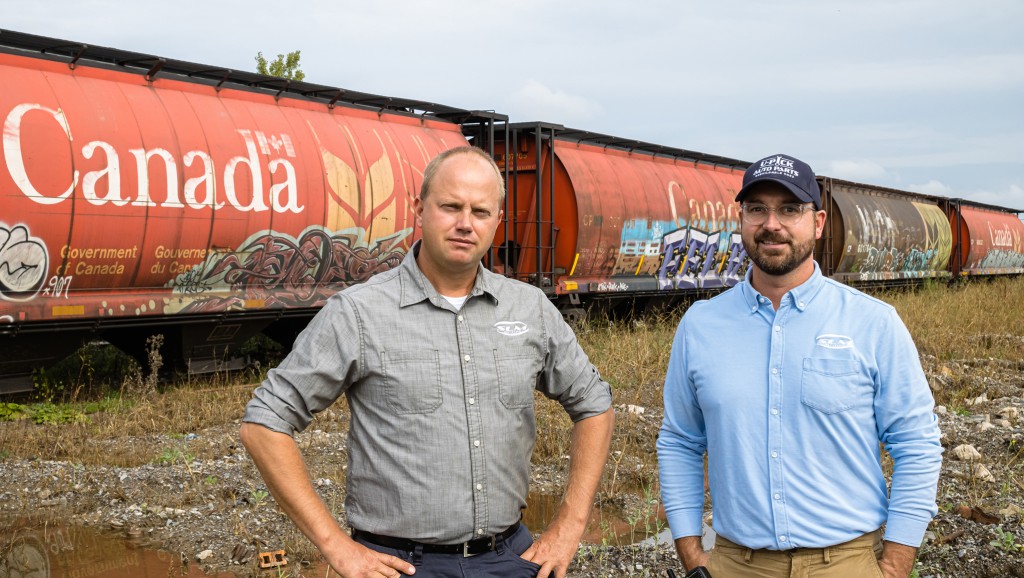 During our phone conversation, Stewart (Stew) Lehmann, founder and President of SLM Recycling, apologizes for the intermittent background noise coming from his location. There is surprisingly little noise actually, considering he is sitting in a John Deere excavator cab fitted with a LaBounty mobile hydraulic shear, cutting and recovering derailed train cars. Lehmann is working in Parry Sound, Ontario, about two hours north of the GTA (Greater Toronto Area). His partner and SLM VP, Kyle Duncan, is also on the line, talking to us from the Niagara-Welland region of Ontario.
SLM is in the business of collecting, sorting, processing and selling all varieties of used metal, and is one of the most diversified scrap recyclers in the industry, with respect to the types of recovery work being done. Outside of scrap and auto recycling, including a self-service auto parts resale business, the company specializes in mobile processing, including end-of-life railcar and aircraft recycling, derailment cleanups, tire recycling, as well as commercial, industrial and residential tear-outs and demolition.
Stew Lehmann started the company with his father Steve in 2001, after finishing high school. "We started with a truck and a trailer, a crane [material handler] and a car crusher," explains Stew Lehmann. "Today, we have over a hundred pieces of equipment operating across six locations in Ontario and we have rail, truck and barge shipping capabilities."
Still - even with all of their equipment including 20 material handlers and about 40 hydraulic shear attachments, as well as multiple car crushers and balers, a fleet of trucks and railcars, and the capability to handle monthly volumes of about 25,000 tons of ferrous, just under one million pounds of non-ferrous and 1,500 end-of-life autos - SLM, on their 20th anniversary in the business, does not see itself as a large scrap recycling company.
A history of going to the scrap
For the first six years of the business, SLM Recycling didn't have a yard, so instead of material coming to the Lehmanns, their strategy was to go to the scrap. "We started with a mobile format and had trucks and trailers and mobile cranes, balers, shears and everything else going from site to site. Then we started to acquire our own facilities which helped us strategically locate close to some of our current customers, as well as customers we wanted to access."
Today, even with a half-dozen scrapyards in Ontario, the strategy of going to the scrap remains a big part of SLM's business.
"I would say our mobile business still is 25-30 percent of our current volume," says Lehmann. "For Kyle and myself, it's in our blood to be on the road. We're on the go all the time."
He continues, "We believe in being in tune with our customers' needs, as well as helping manage every job site effectively, efficiently and safely, and being present, versus the stay-at-home model, which just doesn't seem to work for our business."
Lehmann says this strategy definitely creates a lot of efficiencies in what they do. "Having an inside check and boots on the ground at any site allows us to be agile and make quick decisions that are holistic and all-encompassing. Not only are we there as managers of the company, but we also do the work. We both are capable of operating heavy equipment, have our AZ driving licenses (for heavy-haul trucks and trailers), and are pilots. We have a very hands-on approach."
Trains
Most of SLM's work in train car recovery, which they have been involved in for about a decade, is done as part of an emergency service when cars have left a rail line and need to be quickly dismantled on site and removed. Railcars weigh about 30 tons on average, and the material recovered is almost all ferrous. Some cars contain aluminum, but it is a very low percentage of the overall volume. For train car recovery jobs, Lehmann says that along with their excavators and material handlers, their mobile hydraulic shears, grapples and magnets are their go-to tools, and he adds that there is also some torching required for some of the heavy dismantling.
"We buy a lot of assets from rail lines, including hoppers, gondolas, flat decks and boxcars, and Kyle now operates one of the largest scrap dismantling spurs for railcars in Ontario."
According to Kyle Duncan, "We are often called to mobilize our equipment for processing end-of-life rail equipment at the derailment site, and often load that material into another railcar to ship directly to the mill."
SLM also has the option of using their private rail line which runs directly into one of their yards with storage capacity for 50 railcars. In addition, through alliances with CP, CN and short lines (small or mid-sized railroad companies that operate over a relatively short network), they can line up 400 to 500 cars for recycling at a time if need be.
As far as the time it takes to cut up and recycle an individual railcar, Duncan says they can process roughly 10 in a day, but if there's a larger package (amount of units to process), they can process upward of 20-plus cars per day when required. The material recovered from an end-of-life railcar is mainly ferrous, and typically a majority of that is plate metal.
"We market it as railcar material," says Duncan. "When we sell to the mill directly, we position it as end-of-life railcars. There can be a bit of cast knuckles or couplers, and there could be the need for some upgrades on the composition of wheels and axles, but the majority of it is plate steel, from the railcar box and frame."
He adds that there are not too many other scrap recyclers in the area, or even North America, that have the capability for this kind of recovery work.
"You have to have a fairly large fleet of carriers and shears," he explains. "We have a large and diversified fleet capable of handling any size or volume of railcars. Your small scrapyard, (handling around 10,000 tons per month) may have only one or two shears and they might be on a 40-ton carrier. We have carriers up to 80 and 85 tons that can lift a whole railcar."
When it comes to processing end-of-life cars for large operators like CN or CP, he says they not only have the infrastructure and years of experience required, they can mobilize very quickly, even the same day.
"When they call Stew or myself, we know exactly where our trucks are and how to divert them to the site. We know exactly where our shears and excavators are. We don't have to call a logistics manager, or a third-party carrier. We take action instantly, and when it comes to large tier-one companies, they appreciate the expeditious nature of our reactions."
Planes
Another interesting aspect of SLM's business is the recovery of end-of-life aircraft, which they have also been involved in for about a decade. However, according to Duncan, there are not a lot of opportunities for recovery of end-of-life planes in Ontario, and aircraft recycling is a relatively small part of their business.
"Any opportunity that is there, we are pretty much on the front lines, and it's come about either through building relationships with airports or with some of the freight carriers," says Lehmann. "Once there's an end-of-life jet or other plane to be processed, we get a call, and it's just a referral at that point. It's not a large part of the volume we do, and it also is really market-based. If aluminum prices are low, some companies would rather have a retired jet sit and do nothing until it absolutely needs to be done, or the market shifts up."
There are of course a lot of end-of-life planes around the world, just not many in Ontario or Canada. Wherever they are though, aircraft recycling is a lengthy, complicated process. "Once a plane ends its life in the passenger sector, they often get converted for cargo, or they go to other countries where regulations are lower, so generally they have a long lifespan," explains Duncan. "I believe there's a couple of places in the Southern U.S. where there are "jet boneyards," where the airlines basically fly them in and that's where they finish their life."
Automobiles
On the end-of-life vehicle side of the business, SLM is both a recycler and a Pick-A-Part self-service operator, but the latter is really a smaller part of their volume and is a relatively new part of the business.
"We've been ingrained in the auto recycling business since inception," says Duncan. "When Stew and his dad started with a single-car crusher, they would travel to almost every auto recycler around. When I came on board, it was like home was wherever the crusher was working, and it would just go to auto recycler after auto recycler, one to two per week. So we've been in that space for a long time and have lots of knowledge and relationships there."
It was only about three years ago that SLM got into the self-serve auto parts business. "We had a bit of real estate at one of our facilities and just saw it as another opportunity for revenue," explains Lehmann. "Because the demographic for this business is mostly public and a lot of do-it-yourselfers, we thought we owed it to the community in a sense. We had an opportunity to harvest a few more dollars from each vehicle that we were already purchasing, and also we wanted to increase our footprint in terms of volume for scrap autos. Now we can purchase another 30 or 40 cars that we may not have been acquiring as a scrapyard."
According to Lehmann, when new regulations first came into place in Ontario for depolluting end-of-life-vehicles, they purchased more mobile units than they needed at the time. They saw an opportunity to help educate and depollute yards that weren't already doing it in the way that the standard was written. Today, most of their depollution fleet is Iris-Mec, and they have mobile SEDA machines as well.
"Our SEDA set-ups use a roll-off container that flips open from the side, and everything for depolluting cars is there, and it is self-contained," explains Lehmann. "We have also used this unit for derailments. We did a derailment a couple of years ago where 238 brand new vehicles were deemed end-of-life because the boxcars they were in went on their side. We took that mobile unit to the site, depolluted right there and removed all the hazardous materials for proper transport.
"I believe we're the only mobile processor in Ontario and maybe the surrounding provinces that has that ability and that machine. It's become less busy now because almost everyone in the industry has got up to best practices and proper standards, but certainly it was a very useful tool in the beginning."
Scrappers at heart
Duncan says even with all the heavy-duty work they do, they don't consider themselves to be an industrial services company. "We do handle industrial accounts and we do have those relationships, but more than anything, the scrap that we source is from end-of-life autos, demolition, and is usually something that still requires processing, whether it be baling, shearing or torching, or sorting and segregating and finding the upgrades. Almost every ton that we buy requires processing, so I'd say the core of our business is processing scrap, whether it be cars or anything else."
"We're very hands-on, boots to the ground," adds Lehmann. "We are people that understand the challenges of day-to-day life as well as the global economy, and we're down-to-earth. I don't know how else to describe it, but it's a very grassroots organization with a fairly modern handle on new technologies, innovations and investments. We have an old-school approach to a lot of things, a conservative approach, but we're also very eager to reinvest when required.
"The biggest strategy I can pass on would be to out-work anybody around you and you'll enjoy the fruits of your labour. Don't act blindly, act thoughtfully and work twice as hard as your competition, and it'll all come back to you."
Duncan concludes, "We have a relatively fairly sizable footprint in the industry, but it's not our goal to be the biggest. We look at it like we have a hundred families to feed and everything we do is for our people. The reason we put our boots to the ground is so that we can pick up the slack and tow the rope when it's needed, and our employees really see that and appreciate it. I have a saying that my grandfather taught me when I was young which is, 'You never ask anyone to do something you wouldn't do yourself.'
"He was a very successful entrepreneur, and I live by his mantra every day, and I know Stew does as well. He's using a shear right now cutting up scrap while we do this interview, because we're lean and we have a good opportunity, and we want the company to continue to grow and succeed. If we just sit back at a desk and count the dollars, then we're not going to continue to grow and support our people - our families that we all work so hard for."
This article was originally published in the October 2021 edition of Recycling Product News,Volume 29, Number 7.