Compact impact crushing plants for asphalt recycling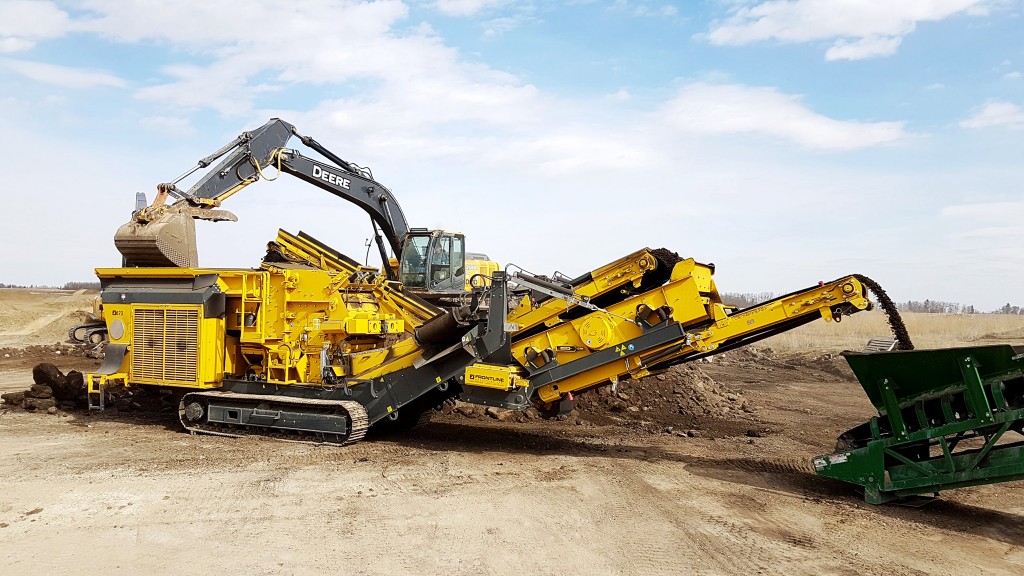 Asphalt is one of the most recycled materials by volume in North America, and in most cases is easily size-reduced and processed to quality, accurately sized reusable material for RAP (reclaimed asphalt pavement) and other high-value products for construction applications. Road and highway reconstruction yields extremely large amounts of peeled and milled asphalt every year, and today's roadbuilding engineers are allowing the use of more and more recycled asphalt into their mixes for new roads. Although asphalt is a relatively soft material, compared to other crushable material such as concrete, it is highly abrasive and, especially in warmer conditions, can be difficult to crush.
Impact crushing plants, also known as impactors, generally range in size from as small as 29,000 pounds up to 110,000 pounds (approximately 13,000 kg to 50,000 kg), and they are widely considered to be the preferred tool for recycling asphalt because of their mobility, high performance and lower operating costs. Mobile jaw crushing plants, by comparison, are more expensive to own and operate and are known to struggle with processing asphalt - especially in warmer temperatures as material can get gummed up between jaw ties.
Compact tracked impactors are easy to transport, are quick to set up, and are available with built-in screens, magnets and conveyors; with their smaller overall footprint and weight, they fit well on worksites at the side of roads and highways, or in urban C&D applications. Mobile impactors are also available with diesel, electric and hybrid drive systems, can be used as a first- and second-stage crusher in one unit, are known for producing high-quality material to very exact size with a cubical shape, and some can move and crush simultaneously.
Following is an overview of four of the latest compact mobile impact crushing plants, ideal for asphalt recycling, from industry manufacturers Rubble Master, EvoQuip, Keestrack and McCloskey.
Rubble Master RM 90GO!
Rubble Master's RM 90GO! compact mobile impact crusher is engineered to provide a good mix between performance, mobility, safety and ease of use, and while ideal for asphalt recycling, can easily switch between different materials, specs and job sites with a range of hammers. The RM 90GO! uses an 860 x 650 mm (34- x 25-inch) crusher inlet opening, a 4-foot x 8-foot screen-box, a wide core radiator that improves airflow and reduces dust buildup, and a return conveyor that can swing out 90 degrees for stockpiling additional oversize product.
With capacity up to 200 tph and capability to produce spec material in a single pass, these compact crushers also weigh only 62,500 pounds for easy transport (on the same trailer used for excavators) with set-up time on the job as low as 15 minutes.

According to Rubble Master's Rene Wagner, when it comes to asphalt recycling, the material is easy to crush, but also quite abrasive. "Using suitable hammers with higher chrome content in your impact crusher is essential when processing large amounts of asphalt," he says. "Rubble Master offers different hammers for various applications. Using the wrong hammers leads to premature wear, and your cost per produced ton goes up."

Wagner says another consideration in asphalt recycling is fines in the feed material. "If you process large amounts of asphalt millings, a mobile scalping screen improves your output and reduces operating costs."
An additional challenge in crushing asphalt continuously is asphalt dust, as fines stick to hot radiators and reduce efficiency. On all Rubble Master crushers, a wide core radiator is used to address this issue, by providing improved airflow and reduced asphalt buildup, and full accessibility from the ground. "If you can't keep your radiator clean, operators will waste hours working on the crusher, soaking the radiator with chemicals, and face changing your radiator after a while," says Wagner. "Rubble Master uses a diesel-electric-drive system and is not dependent on cooling hydraulics so that there are fewer cleaning and performance hassles while crushing asphalt."
EvoQuip Cobra 230
EvoQuip's Cobra 230 is designed for rapid set-up time and features an intuitive control system to enable operators to be crushing asphalt and other material minutes after unloading the machine from a truck. Operators can adjust settings easily without the need for any tools, using a standard, user friendly hydraulic assist, and these tracked plants also feature excellent rotor access for cleanup and inspection.

According to EvoQuip product experts, "In asphalt applications it is so important to open and clean the machine every day. The Cobra 230's hinged radiator makes it easy to clean and maintain, and the user has the ability to quickly detach the complete afterscreen system including the oversize conveyor, providing increased mobility by either running the machine in standard mode or transporting it separately."

The Cobra 230 uses an extremely fuel-efficient and high-performing direct-drive system which, along with two independent hydraulic controlled aprons, allows operators to optimize both material throughput and accuracy of size-reduction, while ensuring lower energy costs. Additionally, to help ensure an optimal material flow of asphalt and other materials through the crushing process, the Cobra 230 is designed so that as material moves from the feeder through the impactor onto the product belt, each section becomes wider, enabling unrestricted flow.
Keestrack R3e
The electric-diesel hybrid R3e impact crusher from Keestrack is engineered to achieve low emissions and low costs per ton, including running costs decreased by up to 70 percent when connected to a main grid electrical system. The R3e provides capacity up to 250 tons per hour in a range of applications, including asphalt and C&D recycling, and is designed for ease of transport at under 30 tons, significantly reduced noise levels over previous models, and zero emissions capability due to its unique electric-diesel hybrid drive system. Other key features include a large crushing chamber; integrated, automatic dust suppression; an anti-vibration system; as well as Keestrack-er telematics using GPS for real-time access to load parameters and machine operation via tablet, laptop or smartphone.

According to North American Keestrack distributor Frontline Machinery, the one or two most important features of Keestrack's R3e compact impact crusher that will benefit operators in asphalt recycling applications specifically, are its robust rotor with optimum blow bar placement, and its integrated pre- and after-screens.

The R3's rotor weighs in at 3,200 kg (without bearings), the largest in its class according to Frontline and, with weight distributed toward the outside, provides a highly efficient crush with increased energy and inertia while improving throughput. Even in some of the hardest of applications, such as asphalt, the rotor will run smooth with less risk of parts breakage while maintaining high velocity. In addition, optimal placement of the blow bars on the R3e rotor allows for high contact and utilization, while the shape of the rotors allows for smooth entry of the material with less wear on the rotor body.
McCloskey 14C
The latest in McCloskey's impactor lineup, the 14C heavy-duty compact crusher is suited particularly to harsh applications, including asphalt recycling and C&D. These impactors can be used as a primary or secondary unit, and are designed for high mobility, performance and expanded versatility, with fast set-up time and capability to work in tight spaces. Built to the same standards as McCloskey's full-size crushers, the 14C has been designed with a deeper chamber, creating greater tramp release space, an aggressive blow bar and apron design, 4-bar variable speed rotor, and three crush zones with an optional fourth strike.
According to McCloskey's application engineering team, "The I4C has been designed to be one of the highest production compact crushers for asphalt recycling and has a number of features built in to deliver high performance and results. In addition to the fourth apron that produces fine gradations, and easy to replace/swap out ceramic blow bars for high wear life and efficient sizing in abrasive applications, a large 12 x 5 onboard screen processes oversized material back into the crushing chamber until the desired size is achieved.
"The I4C also combines a class-leading powerful impact chamber with the efficiency of fines screening, resulting in a high-performance mobile tracked crusher for asphalt and a range of applications."
This article was originally published in the September 2021 edition of Recycling Product News, Volume 29, Number 6.