West Coast Metal Recycling demonstrates strategies for scrap success
B.C. scrap recycler is cutting its own path on the road to growth by investing in its people and tools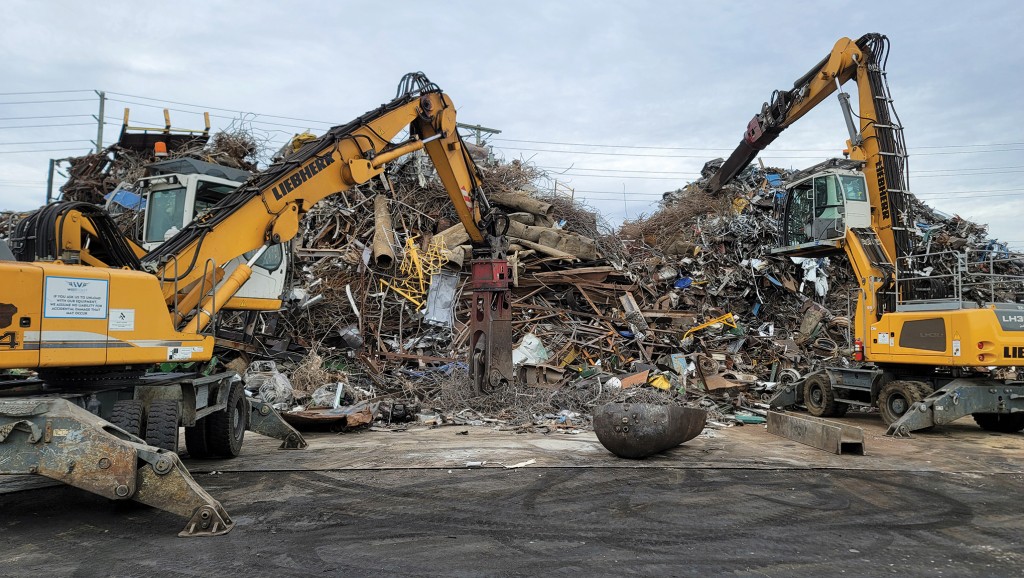 For scrap metal recyclers, the challenges of doing business are wide-ranging. The industry depends on volatile and unpredictable end markets, both domestically and globally, and faces very tough, unique issues including metal theft and susceptibility to fire and other hazards for its workers. Over the last year, especially since the onset of the pandemic, new challenges have emerged in the scrap industry, including shortages with respect to labour, containers, haul trucks and especially ships to move containers to overseas markets. All of this results in tighter and tighter profit margins, which means that scrap recyclers have to look to elements of their business that they can control, such as customer service, taking care of employees and increasing efficiencies at every stage in the recycling process.
West Coast Metal Recycling (WCMR), located on 3.5 acres in Langley, B.C., started in 1966 as R&P Metals, and is now an award-winning example of using these strategies to remain competitive in scrap recycling. According to co-owner Terry McHale, they have built their business up from a rented, 2,000-square-foot shop originally in a barn, with three people, to their current operation at 52,000 square feet and 30 employees. Earlier this year, WCMR was awarded a 2021 Canadian Business award for "Best Metal Recycling Facility - Metro Vancouver," and as of this summer, is processing about 3,000 tons of ferrous material per month - almost double what they were processing only a few years ago.
"Our growth has been exponential over the last 20 years," says McHale. "We had a vision, a plan of what we wanted to do, and we just stuck with it."
According to McHale, they are constantly adapting and changing in response to customer needs and industry trends, continuously exploring new options in equipment, technology and processing, as well as investing and implementing when there is a benefit to both the company and its customers. But while WCMR has seen positive growth over the last several years, and through their history, they are now approaching capacity based on the small space they have to work with.
They would consider expanding their space, but Vancouver and its surrounding areas have some of the highest real estate costs in the world. He estimates that industrial land is probably between $4 and $5 million per acre, even in Langley City, a small urban centre outside of the larger City of Vancouver, so it is extremely prohibitive to simply go buy a bigger yard.
So for WCMR, like many in the industry, to maintain growth and success the best option is to stand out through customer service, keep employees happy and be more efficient within the space they have - which means using both the right strategies and the right equipment.
Strategies for success
Customer service
McHale says their mission has always been to provide superior service to customers while maintaining safety and environmental standards. "Although we have always chosen to cut our own path, we also look to our industry both locally and internationally for ideas on advancement, equipment, technology and implementation, and at the same time take notice of things that do not work."
A lack of good customer service is one key element McHale has noticed at some other scrapyards. "Service your customers, they want to see your trucks right away," he says. "My trucks are nice, new, they're fancy looking. My drivers are uniformed, polite and experienced. Customers don't call you when their bin is full. They call you when it's overfull or when they were supposed to call yesterday."
He has also noticed there are some other really simple mistakes made by many in the scrap business with respect to customer service, including unreliable payment to customers and simply not answering the phone.
According to McHale, the volume of material processed at WCMR has grown largely because of their attention to exceptional customer service. "I am picking up business constantly and I do not knock on doors - I don't solicit customers."
Efficiency in the yard
Efficient handling of material is vital at WCMR. "I've been to multiple yards, and I've seen machines handle the same piece of material four or five times," says McHale. "That machine is burning fuel, depreciating and putting hours on."
They took this as a major lesson early on and translated it not just to their yard, but to their warehouse as well. "It speaks to how we set up our yard," he says. "I constantly hear from people that come here, people that regularly go to other scrapyards, and buyers, that we are probably the cleanest, neatest, most organized yard they've ever seen. We have it set so that there's one way in, one way out. As you go in, you either dump in pit one, two, three or four, and they're all in order."
The WCMR yard is also not only 100 percent paved, but all of their material handlers operate on 1/2-inch steel plates. "What that does is it protects the integrity of my asphalt, my paving, to make sure that there's no leakage into the ground," explains McHale. "I own my ground and I have to protect it and make sure it doesn't become contaminated. We designed our yard so it's 100 percent contained."
Another benefit of having a 100 percent paved yard is avoiding a common complaint from mills about receiving scrap loads that are full of dirt. "That comes from steel sitting in dirt. When you get down to the bottom of the pile, of course, the dirt is stuck to the metal. You pick it up with your machine and it goes into the load. There's no chance of dirt being in my load."
Location, location, location
WCMR's location in Langley is about 30 minutes east of Vancouver. They are also 30 minutes from multiple ports and very close to highways and the U.S. border.
"My proximity to multiple highways means my trucks can be on any of them in probably 10 minutes at the most. And then that also is the same for when I'm exporting. Our trucks can be at the U.S. border in 15 minutes. When I'm loading ocean containers, it is the same thing. It's a very central location."
He says their location is also ideal because they are situated between their primary sources of material. "I'm literally right in the middle of multiple industrial parks, and they are what's producing the bulk of the scrap we're dealing with."
Taking care of employees
According to McHale, the most challenging aspect in operating a scrapyard currently is labour.
"It's been a struggle trying to find people," he says. "Where you would have general labourers filling all the positions, they're not there. So your skilled trades people, the pressure is being put on them to not only do their job, but to do these jobs that we can't find people for."
He says also, as of recently, they have noticed a psychological issue with some of their operators. "The scrap never stops," he says. "Operators work with a shear all day, cutting a pile of steel, just cutting and cutting all day. At the end of the day, you look at the pile, and it doesn't look like you did anything."
With this in mind, WCMR is looking at ways to address this, considering options like job sharing and moving people around to different positions in the yard. "We're also looking at an afternoon shift starting, which means some guys will cut all night. And because there will be no trucks coming in at night, that'll definitely provide some visible results."
With respect to their employees, McHale is continuously thinking about what is going to make the process better for their workers. "I have to keep my employees happy. If they're not happy doing what they're doing, that is going to be your biggest problem."
The right tools for the job
Using the right equipment and tools for the job is key to efficiency in any industry. The question for McHale is: how can he use the limited land that he has and make it more efficient? He says a large part of the answer to this question is investing in new and innovative equipment and technology.
"I don't have a lot of room, so I've got to be smart about what I put in," he says.
Material handling
Most recently, WCMR bought three brand-new Labounty mobile hydraulic shears, and their fourth Liebherr material handler is scheduled to arrive from Germany by this winter.
"We're investing in more machinery, so that we have more capacity, and we can process material faster and get it out faster. It also takes the pressure off our maintenance program," says McHale, and admits that he's fairly exclusive on some equipment.
"All my material handlers are Liebherr. I've got a really good partnership with them. My sales rep is really good to deal with and their service staff is excellent. When we have a problem, they understand. They get it. It's not like they have a mechanic there in two or three days. They understand I need that machine to run 10 minutes ago, they get me parts quickly, and they get a mechanic out here sometimes the same day, depending on the time, or next day for sure."
WCMR also uses Likufix hydraulic-electric disconnect technology supplied by Liebherr. This technology allows operators to quickly change out hydraulic attachments, from shear to grapple, and it allows for quicker maintenance.
"Our operators can 100 percent stay in the cab, drive over to an implement that's lying on the ground, pick it up and lock it in place. There's a little alarm in the cab that sounds until the pins are locked in place. It takes less than two minutes to switch an implement."
He notes that with respect to this technology, he cannot figure out why, as far as he knows, to this day, WCMR is the only company on the West Coast using Likufix.
"It blows my mind that other people have not jumped onto this. Specifically, smaller yards. Why would you have a machine that's designated for a grapple, and a machine that's designated for a shear, when you can have one machine that does both? There's a significant cost savings, and there's space savings. I would never buy another machine without one."
The loading system
WCMR also runs another serious timesaver - an Acculoader automatic container loading system, which they have been using for about three years.
"It goes back to efficiency," McHale says. "How do I move materials faster? We were loading containers with a ramp and Bobcat for years. That would take us an hour and a half per container. When you're loading 10 containers a week, no problem, but I'm loading 10 or up to 15 containers a day. Without our Acculoader there's no way we could do it."
The Acculoader also allows for pre-loading material so it's ready when trucks show up.
"If I'm expecting containers on Monday, that truck is going to show up, we're going to weigh them in, he's going to drive to the back, back up to the Acculoader, and it can take less than five minutes to load the material in. He then goes back around to the scale to exit, and the second that Acculoader is empty, they start pre-loading it again. The Acculoader is money very well spent."
The hooklift advantage
WCMR runs a fleet of three trucks and has a handful of partnerships with companies that haul their bins to and from customers. Their three trucks are all Ampliroll hook-lift set-ups, rather than cable hoist, and all are on Peterbilt chassis.
He explains that while cable hoists are the standard set-up for hauling containers in North America, they have found hook-lifts to be much more efficient.
"When you have a cable hoist the driver has to get out of the cab, crawl underneath a bin, and hook the cable on manually, and then get back in the truck to pull it up," says McHale. "Then they need to get out again to put chains on to secure the bin.
"This is not efficient for the drivers. You have to be a contortionist to get under bins to hook on a cable hoist, and the hook weighs about 20 pounds, which when an operator is fully extended under a bin trying to hook it, it's tough. With drivers in and out, there is a chance for injury, and if it's pouring rain, they are in and out in the rain."
With hook-lifts, drivers control the container hook-up (or drop) from inside the truck, and don't have to get out. "You pull the bin on the truck from inside the cab, and it automatically locks, and the driver doesn't have to put chains on it. For us, the time savings, and the safety, is a big, big deal."
Software and systems
With respect to their software systems, also paramount to their overall efficiency, WCMR uses ScrapIT for buying and CRO for dispatch.
"ScrapIT has been around for a long time. I think we were actually the first company on the West Coast to implement it, but lots use it now. It's been rock solid, and ScrapIT is very responsive if there's an issue or if we need something changed."
For dispatch, they use CRO software, which they began using close to 10 years ago.
"CRO software has all my bins uploaded, so when the driver goes to a job our software tells him what bin he's supposed to be picking up, and keeps track of both it and the new bin being dropped."
They can go quickly online anytime and find out where any bin is deployed, and the system provides GPS coordinates for all trucks, and displays their location live online at all times, especially good for route planning. With CRO software, their drivers can also upload notes and send them back to dispatch.
"It has been a really versatile system," McHale says. "We're probably closing in on 1,000 bins that we have out, and to keep track of all of them would be almost impossible without it. If I had to do an Excel spreadsheet, I don't know what I would do."
For Terry McHale and his team at West Coast Metal Recycling, their intuitive software is one of many very important tools, which, combined with forward thinking business strategies, remain central for their continued growth and success. Especially when faced with limited options for physical expansion through land acquisition, this means continuing to invest heavily in their tools and people, increasing efficiencies at every stage, adapting to rapidly changing industry trends, and remaining hyper-focused on providing the very best customer service possible.
This article was originally published in the September 2021 edition of Recycling Product News, Volume 29, Number 6.