LIKUFIX Power
Innovative hydraulic quick coupler turns scrap handlers into multi-taskers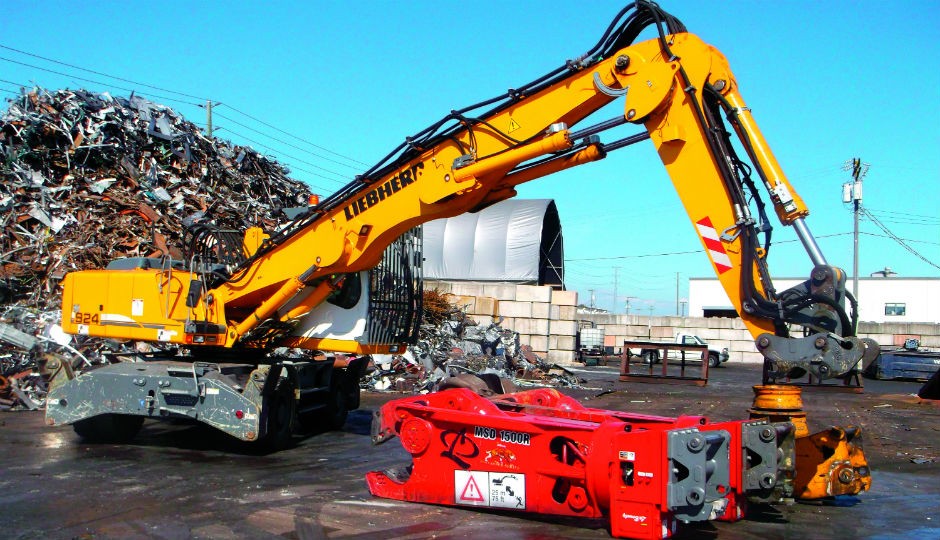 In the grand scheme of things, West Coast Metal Recycling is not a large operation. Located in Langley, B.C., just outside Vancouver, the company moved to a new 3.2-acre site in 2012, where they now have 52,000 square feet of covered building and process between 1,200 and 1,500 tons of ferrous and nonferrous metals monthly. The company services established markets around the world, shipping direct from B.C. to most global ports.
"We process all metals," explains Terry McHale, one of West Coast Metal Recycling's owners, along with partner, Marcel Gottwald. "Anything from your basic ferrous metals (steel and tin) right up to more exotic materials like titanium, carbide and tungsten. We do it all."
"We've shipped from traditional markets such as the U.S., right to Taiwan, China, and India is opening up for us," says McHale.
"India has always been kind of off the table, because geographically speaking they're not ideally suited for shipping out of the Pacific Northwest. But that does seem to be changing a little bit. They're becoming very aggressive with their pricing. They need to get the material, and they understand that they're ley, B.C. they implemented a bylaw, about seven years ago. This is where our camera systems came from, because we were required by law to put it in." "They are trying to curb metal theft. It's a noble effort, but the problem is they are putting lots of regulations on us, even though we were already way ahead of what they were asking us to do. Now, there's another new provincial bylaw going to have to compete with China to get it."
Service, the right equipment and high-tech operations
About 95 percent of West Coast's scrap materials come from local machine shops, fabricators and manufacturers.
"I've got about 100 roll-offs sitting across the Lower Mainland (Vancouver and its surrounding region), and I have what they call a 'shop bin program', which are these small, black shop bins that we provide. Because a lot of customers don't need a full roll-off. I have about 700 of those across the Lower Mainland."
"That is how we built ourselves so fast," McHale continues. "It's the service. That's something that we really find our customers are looking for. They're always looking at their dollars and cents, but some of them are less concerned by what you're paying them and more concerned by what you're offering them. Meaning what kind of bins and trucks do we use? Do the bins look messy? Are they all beat up, or do they look nice?
"Because a lot of these customers we're dealing with are high-end customers. They're manufacturing plants. Everything's in order. The place is spic and span, and they don't want an eyesore.
McHale continues; "Customers never phone when their bins are full. They phone when they are over-full. They don't want to hear, 'I'll be there in two, three days.' They want to hear, 'I'll be there in two or three hours.'"
McHale says West Coast Metal Recycling works hard to be very responsive to customers. They keep two Freightliner trucks designated full-time for picking up and delivering in the Lower Mainland area, and use contract trucks as well. For roll-off bins, McHale uses locally manufactured Dormel Containers, which he says use a heavier-gauge material, and a non-traditional design with a formed side instead of a flat side.
"Dormel bins are not the cheapest by any means," says McHale. "But I'm ten years along and I have my very first Dormel roll-off that I ever bought still in service. Other than maybe needing a paint job, it's still in good shape. I'll keep buying Dormel bins."
"This is a tough gig on any piece of equipment you're using. I don't care if it's a roll-off bin, a shop bin, an excavator – this is steel vs. steel."
West Coast also uses three LaBounty shears, one Hitachi track excavator, four skid steer loaders, half a dozen Toyota forklifts, and a Harris HBL66 logger/baler to produce bales for export.
"It's like a clam-shell type," explains McHale, talking about their Harris unit. "It clams up, and then it produces a 2-foot by 2-foot, by variable length 'log'. Our Harris baler/logger runs constantly, all day for us, because we produce a couple of tin types – what we call baled tin, and then we produce a number two bundle, which is a clean product."
McHale also notes that West Coast Metal Recycling was likely the first on the West Coast to implement Toronto based I.Y.B.'s ScrapIT automation software and systems into their operation, including an automated ATM payout system and a high-definition camera system that captures images of customers, vehicles and materials.
"We pay out using a bar code. Customers take that to our ATM machine, which gives them their cash. Our I.Y.B. system is 100-percent automated. It tracks scales, cash, it tracks everything. And the system is infinitely expandable."
While McHale admits the level of automation they are using in their yard now is certainly indicative of big changes in the scrap industry, he says the biggest change he's seen has to do with changes in bylaw regulations and enforcement.
"Where we operate, the City of Langley, B.C. they implemented a bylaw, about seven years ago. This is where our camera systems came from, because we were required by law to put it in."
"They are trying to curb metal theft. It's a noble effort, but the problem is they are putting lots of regulations on us, even though we were already way ahead of what they were asking us to do. Now, there's another new provincial bylaw that came into effect a few years ago. Basically, it's just a lot of extra paper work. They just want us to take down so much information. If you weren't automated, you'd have to have a person full-time to do it."
Liebherr's A924 dedicated handler with LIKUFIX coupler
In 2012, West Coast Metal Recycling purchased a Liebherr A924 dedicated wheeled scrap handler from their local Liebherr Canada representative.
"I was replacing a track excavator, and at first, another track machine was a very attractive option, because they are quite a bit cheaper than a Liebherr material handler," explains McHale. "What it came down to though is the fact that the A924 is purpose-built for work in scrap metal.
"A tracked excavator is designed to excavate, dig, trench and shore. They are not designed to run the high hydraulic pressures that shears require.
"The other big factor we had to consider with our purchase was that we did not have a magnet in our yard. We didn't have a grapple. We were loading containers and trucks with Bobcats, which is inefficient. I needed a carrier to run my shear, and we also needed to run a grapple and magnet. With a track excavator, our shear would be fix-mounted. As soon as I mounted that shear on there, that's it. All that machine can do is shear. We did not want to buy two carriers."
At this point, Liebherr suggested McHale take a look at LIKUFIX technology. LIKUFIX is a hydraulic, quick coupler that uses a patented liquid coupling system developed by Liebherr. LIKUFIX allows the quick and safe changing of mechanical and hydraulic attachment tools from the cabin and is the first quick coupler that has proven to work well with scrap material handlers, like the A924.
"As far as I know, we're the first on the west coast to be using LIKUFIX in the scrap yard," says McHale. "It allows a single carrier to operate whatever I can put on it. I can put a shear on, I can shear for an hour. Once we have a truck to unload, we can drop the shear, pick up the grapple (which literally takes less than two minutes), load the trailer in about 15 minutes, and then change back to the shear."
"We're not the type of yard where we have trucks lined up all day, and the need for a grapple to run all day. I maybe load three or four trailers per day."
Besides flexibility in operation, the LIKUFIX works well with the higher hydraulic pressure requirements of scrap handlers. "We're running high pressures in comparison to a lot of quick couplers. Excavators usually run around the 3,000 to 3,500 psi range. My shears are running 5,000 to 5,500 psi."
"This is a tough gig on any piece of equipment. Whether it's a roll-off bin or an excavator – this is steel vs steel. - Terry McHale
Another major benefit McHale has found is that the LIKUFIX quick coupler allows for 100 percent operation from in the cab of the material handler. Hydraulically actuated pins that work on an alarm system let the operator know if the pins are extended or not. Operators simply park near the attachment to change, place the current attachment beside it, sling over and pick up the new attachment. Pins are then extended, put in place and locked, and the alarm system lets the operator know he is ready to go.
"Operators technically never have to get out of the cab," McHale continues. "However, we're very cautious with our equipment. We still require our operators to get out and put a safety plate on the hydraulic connections, to keep the dirt off and protect them."
Since the introduction of the LIKUFIX quick coupler to their operation, McHale says efficiencies have gone up exponentially, especially when he takes into account the fact that he only needed to purchase one carrier.
"With three attachments and one carrier, I essentially have three machines. With my A924, I can run a shear, I can run a magnet, I can run a grapple – any attachment I want. I did not have to spend a half a million dollars to have three carriers."
McHale says the final important benefit of their new system is the enhanced safety. "Safety-wise, our operators can remain in the cab for more of their time, where they are guarded and protected."
The future for West Coast Metal Recycling
"Here in the Pacific Northwest, I consider this to be one of the most competitive markets in North America," says McHale. "I base that on the prices that we sell our material for in comparison to what I hear from other markets, like Houston or Los Angeles. I get buyers that contact me and tell me it is really expensive here, but I don't see that changing. Our proximity to China makes us a jumping point to get the materials out. It's extremely competitive here.
"As for the future of West Coast, I'm very confident in our business. Our growth has been exponential over the last ten years, not just because of the management we have in place. I think my partner and I are really good about investing back in our company. We know that we have to put the dollars back in to keep us efficient, to keep us attracting the right business.
"We've really built our business on service, and I know for a fact that is where the bulk of our increase is coming from. When you phone here, I personally answer the phone. I dispatch my trucks. I'm a very hands-on owner."
McHale adds: "Word of mouth is your best salesperson. You have to treat customers fairly, with a fair price. I'm never going to say I have the best price in the world. I will be as competitive as possible. But, I will tell you that I've got the best service..