Mack marks 100 years of trucking in Canada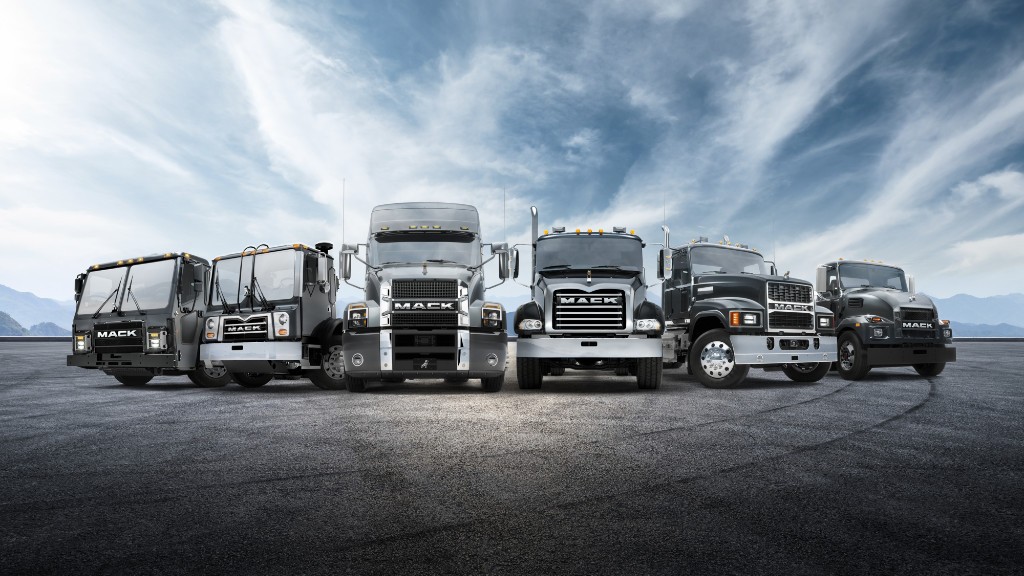 Celebrating its 100th anniversary in Canada this year, Mack Trucks highlighted its trucking success and leadership by displaying the Class 8 Mack Anthem and Class 7 Mack MD7 models during ExpoCam 2021, Sept. 22-23 at Espace Saint-Hyacinthe, Saint-Hyacinthe, Quebec.
"Mack has all the necessary services and products to leverage its leading uptime, fuel-efficiency and safety technologies to support further development of Canada and its diverse regions for the next 100 years," said Jonathan Randall, Mack Trucks senior vice president of sales and commercial operations. "As the country focuses on infrastructure ambitions and a commitment to achieving net-zero emissions by 2050, our complete Class 6-8 product range and services can deliver advanced, clean technology solutions and exceptional total cost of ownership for our customers moving and building Canada."
Known for its fuel-efficiency and uptime benefits, the Mack Anthem model can be equipped with the recently introduced 13-liter Mack MP8HE+ efficiency package, which includes the revised MP8HE engine, the Mack mDRIVE automated manual transmission, numerous aerodynamic improvements and Mack Predictive Cruise. This package boosts fuel efficiency by up to 13 percent when compared with the baseline Anthem model.
Further fuel-efficiency benefits are realized through the newly designed Mack Anthem day cab roof fairing, offering improved fuel efficiency by up to 2 percent when paired with side shields. Mack also offers the FlowBelow Tractor AeroKit system as a factory-installed option for the Mack Anthem model, improving fuel efficiency by up to 2.23 percent.
Mack Command Steer, Mack's newest driver-assist technology, is also available on the Mack Anthem and the top-selling Mack Granite model. Command Steer reduces driver effort by 85 percent, helping mitigate the physical demand and strain on drivers. Command Steer uses multiple sensors to monitor road conditions, the environment and driver input, and when warranted, an electric motor applies torque to help drivers keep the truck steady on the road. Command Steer helps enhance safety in conditions like banked roads, tire blowouts and wind gusts, reducing the need to fight the steering wheel and risk overcorrecting.
Mack also offers its Canadian customers the latest in connectivity technology. Standard on Mack Class 8 models powered by Mack MP Series engines, Mack GuardDog Connect monitors critical fault codes. When an event is detected, it proactively contacts Mack OneCall agents at its Uptime Center in Greensboro, North Carolina. Mack OneCall Agents help schedule repairs and service, often before the driver and customer know an event has been detected, through the Mack dealer network, which has more than 100 facilities coast-to-coast in Canada.
Also standard on Mack trucks equipped with Mack engines is Mack Over The Air (OTA). Mack OTA allows several service alerts to be resolved remotely, simplifying the updates by enabling customers to make unlimited driver-activated software and parameter updates, most of which take less than 13 minutes. Driver-activated parameter updates can be completed in less than one minute.
The recently launched Mack Premium Service agreement comprehensive maintenance program simplifies maintenance management, while also enabling customers to bundle their service agreement with their truck payment, another benefit to Mack's North American customers.
"Whether it's B-trains, log trucks, dump trucks, refuse collectors or mixers, Mack covers Canada's trucking needs," said Steve Jugovic, Mack regional vice president, Canada. "Mack products deliver transport solutions needed in the city, on mountain roads and all throughways in between."
Along with the Mack Anthem model, Mack showcased the Mack MD7 in its booth at ExpoCam. Mack recently introduced its Mack MD Series, a Class 6 and Class 7 model, offering customers a medium-duty platform ideal for tank truck, beverage, dump, refrigerated, stake and flatbed applications. The MD Series models are available in 4x2 configurations, offering exceptional maneuverability in urban applications through a sharp wheel-cut and a short bumper-to-back-of-cab (BBC) measurement of 103-inches.
The MD7 is built for versatility and provides multiple engine and transmissions options and eight wheelbases, ranging from 10 to 26 feet. The driver-focused interior incorporates many of the ergonomic design features from Mack's Class 8 truck models, providing drivers a comfortable and quiet ride. Connectivity through Geotab Go gives Mack MD customers 24/7 uptime support access to Mack OneCall agents.
Company info
Related products