CM Shredders installs high-capacity automated tire shredding system for Southeastern Public Service Authority
CM Shredders has installed a new state-of-the-art, high-capacity automated tire shredding system for the Southeastern Public Service Authority (SPSA) in Suffolk, Virginia.
SPSA is the regional solid waste collection and disposal agency for over one million residents in the Commonwealth of Virginia. The tire processing facility at SPSA has continued to see an increase in tires processed each year. In the past four years the tire flow has doubled and the percentage of truck tires has increased significantly.
Their previous tire shredder, also a CM tire shredder, was in operation for nearly 20 years. The management team at SPSA decided it was time to replace that shredder and an IFB (Invitation for Bid) to the top shredder manufacturers in the nation was sent out. CM Shredders was awarded the tire shredder replacement contract by SPSA Waste Solutions to manufacture, install, and support the new tire shredding system.
The new tire shredding system can process passenger car, semi-truck, and light OTR tires at extremely high-capacities and features CM's brand-new HT 250 hybrid primary shredder with a high-volume automatic infeed system. During the runoff test the system processed in excess of 30 tons per hour.
"An array of cameras and advanced sensors are custom programmed to communicate with both the shredder and the conveyance systems allowing the machine to self-meter at high volumes. The operators can view the live camera feeds remotely and can focus on other tasks as the machine keeps an optimal speed and capacity on its own," said Mario Vazquez, CM Shredders Sales & Marketing Director.
"With high capacities and automation come greater chances of a foreign object such as rocks and rims making it through initial screening protocols," added Vazquez. For added protection, the CM system has an extreme impact protection system. However, it is not accomplished with an old-style mechanical clutch. It is achieved with CM Shredders advanced electrical controls system. This system provides a torque limiting function that can instantaneously detect and respond to an extreme impact and is much more efficient than an old-style mechanical system. Therefore, no clutch or fan cooler is required, nor do they have to be maintained, reducing maintenance costs and downtime.
"The new machine can shred and process four times as many tires as the old shredder, and the old shredder was no slouch. We are very proud of our new facility and of the fact that every scrap of rubber will be recycled - mainly used for TDA or at the landfill," said Bagley.
Related Articles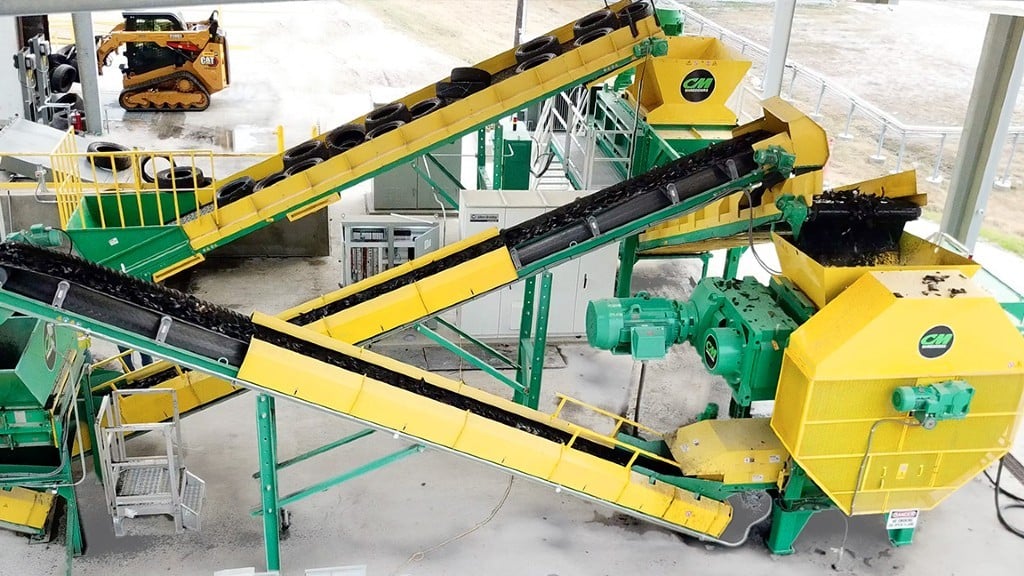 CM Shredders deploys tire-derived fuel shredding systems in U.S.A and U.K